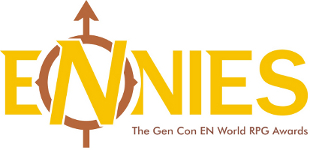 The ENnie Awards started in 2001, the brainchild of the EN World website, as a way of recognising excellence in the role-playing industry. Starting off as an Internet-based event, the awards were soon given a physical home at Gen Con Indy, and the online voting process is geared up to allow for this. It's very democratic, with voting for the five judges and then to choose the winning entries from the shortlists the judges prepare being open to all comers, so any ENnie winner can be certain that their work is cherished by the role-playing community as a whole.
Here are the shortlisted product and eventual winners, year by year: -
Visit the ENnie Awards website.
Page last updated: 28 August 2021