---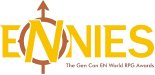 Having the honour of being elected as one of the 2013 ENnies Judges, this year will be dominated by reading all the submissions - list HERE - and, whilst reviewing is part of my judging process, please note that reviews are about a single product whereas judging involves comparison with other like works.
My intention with this site is to build up a comprehensive overview of role-playing games (the pen & paper sort, not computer games), concentrating on supporting and enhancing role-playing and bringing new and unusual systems into the limelight as well as supporting the better known ones, and maintaining information about the 'golden oldies' that are still loved even if they are no longer supported by their publishers.
All comments & suggestions welcome - Megan Robertson.
Look for DriveThruRPG, Paizo, RPG Now, & Amazon links on individual product pages
Check out DriveThruRPG's Gamers Save and Support Great Causes page for current fundraising efforts, and do your best to support them, please.
Dungeons & Dragons PDFs are once more on sale! Click on the banner below, revisit old favourites and find new delights in the TSR/Wizards of the Coast back catalogue.