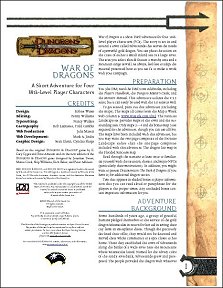 An adventure for 18th-level characters.
Publisher's blurb: "Some hundreds of years ago, a group of grateful humans pledged themselves to the service of the gold dragon Miraxacalas in return for her aid in saving their city from an extraplanar threat. Though she graciously declined their offer, they would not be deterred and moved their whole community to a spot closer to her home. There they established the town of Silversands along the banks of a wide river near the mountains where Miraxacalas lived. Named for the silvery color of the sandy riverbank, Silversands grew and prospered. The people provided the dragon with whatever she requested, and she protected the town from the predations of large creatures and bands of giants.
"The gold dragon's hoard has swelled with the gifts that the townspeople have rendered up every year, but she considers the town itself, with its population of loyal friends, to be the most valuable treasure of all.
"But such a prize could not remain uncontested for long. An ambitious black dragon named Vrinthralix Venrakkanax wants to expand his hoard by wresting treasure from other dragons, and he possesses the perfect weapon for doing so.
"It didn't take long for Vrinthralix to assume control of Silversands. Its people now unwillingly serve him, fearing the consequences if they disobey. They don't have the skills or magic to best the old black wyrm, and Miraxacalas hasn't been seen in weeks."
Book Details:
Author: Robert Wiese
Publishers' Reference: Unknown
ISBN: n/a
PDF, 17 pages
Date: February 2004
Buy this product:
Product page last updated: 10 August 2016