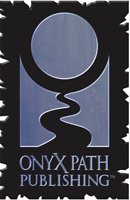 Onyx Path Publishing was founded in January 2012 by White Wolf Creative Director Rich Thomas. Following October 2011's layoffs at CCP, CCP/White Wolf was no longer in a good position to do publishing in addition to the main business of making computer games. As a result, Rich founded Onyx Path Publishing to handle this business. They are the licensed publisher for White Wolf's tabletop RPG settings: the World of Darkness, the Classic World of Darkness, and Exalted. They also publish Scion and the Trinity Continuum, originally White Wolf property which they have bought outright. They co-own the Scarred Lands setting with Nocturnal Media, and have started publishing their own original materials as well.
In October 2015, Paradox Interactive acquired White Wolf Publishing and the World of Darkness intellectual property, and their interest in publishing RPG books was rekindled. Following negotiations between White Wolf and Onyx Path it was agreed that Onyx Path would continue developing the '20th Anniversary' editions of Classic World of Darkness titles and the Second Editions of New World of Darkness lines, these last being renamed Chronicles of Darkness.
Visit their website.
Listen to the Onyx Pathcast podcast on YouTube
Company Section last updated: 14 September 2019