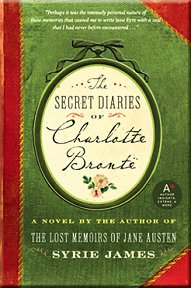 So, at least in fiction, Charlotte Brontë was every bit as exciting as her own characters...
Publisher's blurb: "Though poor, plain, and unconnected, Charlotte Brontë possesses a deeply passionate side which she reveals only in her writings - creating Jane Eyre and other novels that stand among literature's most beloved works. Living a secluded life in the wilds of Yorkshire with her sisters Emily and Anne, their drug-addicted brother, and an eccentric father who is going blind, Charlotte Brontë dreams of a real love story as fiery as the ones she creates.
"But it is in the pages of her diary where Charlotte exposes her deepest feelings and desires - and the truth about her life, its triumphs and shattering disappointments, her family, the inspiration behind her work, her scandalous secret passion for the man she can never have... and her intense, dramatic relationship with the man she comes to love, the enigmatic Arthur Bell Nicholls."
More when I get hold of a copy!
Book Details:
Authors: Syrie James
ISBN: 978-0061-64837-3
Paperback, 512 pages
Date: 2009
Buy this product:
Page last updated: 5 January 2011