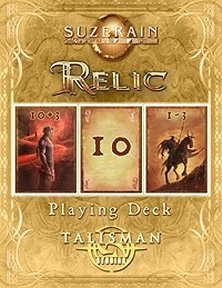 Sit down at the game table, set your imagination loose... and bang down to earth with a mundane set of common or garden playing cards for task resolution?
For those who want their game aids to reflect the richness and allure of the rest of the game, this deck could prove to be the answer. Exotic, almost cryptic numbers for one side, and a decorative back proclaiming 'Relic' should suit all.
True, it's going to use up a lot of printer ink and your craft skills will come into play matching fronts and backs up, preferably with a card base sandwiched between the two for durability - and even to enable a decent shuffle! - but if you like beautiful things on your game table, it's worth it!
Return to Relic Playing Deck page.
Reviewed: 17 July 2009