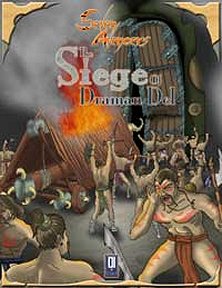 Strictly speaking, this is a wargame not a role-playing game, but I've included it because it forms a part of the SEVEN AVENGERS epic, because it could be used as a martial background to role-playing during the siege, and because the siege rules might be useful!
Publisher's blurb: "This wargame allows you to play The Siege Of Draman Del during the course of the adventure: The Legend Of The Steel General. It can also be played as a stand-alone wargame.
"Draman Del is an ancient fortress city in a mountain pass, the only pass between the west and east lands. The west is represented by a confederation of kingdoms (Nath, Drakand, Draman, Randrom, Svariji, Land people) formerly known as 'Draman'. Draman Del is the only fortification against the east people, the barbarians called Zenith; if it should fall, the barbarians may swarm over the west kingdoms. The Seven Black Generals all host a shard of the soul of the evil god Zadrak and have been asleep for thousands of years but now, unknown to all, they are awakening. One of them, Xishayah, under the name of Kan Zenith, has gathered the nomadic Zenith tribes and is leading them to attack the west. To do this the legendary fortress of Draman Del must fall before General Adran arrives with reinforcements."
Click HERE to buy this from RPG Now.
Book Details:
Authors: Jacopo Porreca and Mario Barbati
Publishers' Reference: 0RP1004
ISBN: n/a
PDF, 14 pages
Date: October 2001
Product page last updated: 16 February 2005