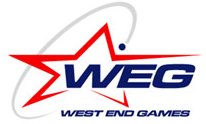 Formed in New York in 1974 as a board game publisher, West End Games launched their first role-playing game, Paranoia, in 1986. The success of this led to several licenced games such as Ghostbusters and the first, probably best, Star Wars RPG; while more original and licenced game lines were also developed.
The game mechanic developed for Star Wars now leads the product list as the generic D6 System, while Torg continues in production and new games are always in development.
Men In Black
Metabarons
Necroscope
Shatterzone
Species
Tales from the Crypt
Tank Girl
Torg
Visit their website.
Company Section last updated: 9 August 2009