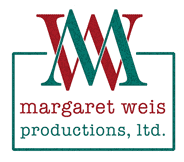 Margaret Weis is a noted fantasy writer as well as a game author, with a solid track record of both excellent work herself and the ability to attract other writing and artistic talent to her banner. The company is noted for high-quality but short-lived licenced games from other media, notably TV series.
Castlemourn - post-apocalyptic setting designed for use with D20 Dungeons & Dragons
Cortex System - the 'house' ruleset that underpins many of the RPGs
Demon Hunters RPG
Dragon Brigade RPG
Firefly RPG - the second attempt to bring the iconic TV show to life in a game
Paths of Doom - solo game books
Serenity RPG - the Firefly setting brought to life
Supernatural RPG - based on the TV show of the same name
Visit their website.
Company Section last updated: 3 January 2015