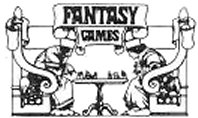 FGU was founded in 1975 by Scott Bizar, and has been noted for producing detailed yet playable role-playing games, ones in which getting your head around the complexity enhances the creation of a believable 'alternate reality' within the game setting. New production ceased in 1987, although reprints have continued to be released, and a large number of products are available from DriveThruRPG in PDF format.
In 2008, the company was reborn, and some old and rewritten material is already becoming available.
Bushido
Daredevils
Freedom Fighters
Lands of Adventure
Privateers & Gentlemen
MERC
Psi-World
Skull & Crossbones
Space Opera
SwordBeareR
Villains & Vigilantes
Year of the Phoenix
Visit their website.
Company Section last updated: 16 June 2018