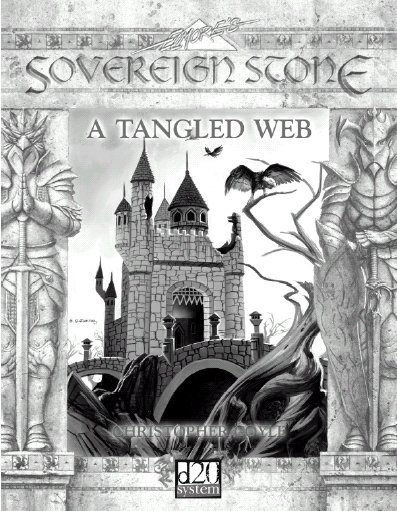 An adventure for low-level characters within the Sovereign Stone setting.
Publisher's blurb: "A nobleman's only son and heir has been kidnapped, held by an unscrupulous group of bandits whose ransom demands include a family relic long since buried in the family crypt. Unfortunately, something terrible has taken residence in the crypt, and the nobleman needs the item before it is too late to save his son. Perhaps he can enlist the aid of a group of adventurers, who have become rather famous in the area, to help save his son."
Available FREE HERE, thanks to Sovereign Press for making it available.
Book Details:
Author: Christopher Coyle
Publishers' Reference: SVP3001
ISBN: None
PDF, 18 pages
Date: 2002