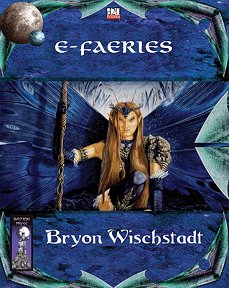 Deigned as a 'taster' for the book Faeries, this work opens by providing the full table of contents and the Introduction, including a fascinating discussion on why 'faeries' is spelled as it is... and how they are referred to as 'fey' throughout in this work (and, of course, Faeries).
This is followed by portions of each of the four chapters of the main work, which expand on the table of contents and Introduction so that you can see the sort of thing that's in there. The first chapter, Fey Characters, talks a bit about using fey as player-characters, finding appropriate levels for those drawn from monster books and how not to overwhelm the rest of the party, which can be a real danger!
Next, from Chapter 2: Lore of Faerie, we hear how the fey come from a world that's dramatically different from the 'real world' - or even your regualar campaign world; and as such their whole mindset is going to be completely different from that of your party of mortals. It takes movement as an example, explaining how many fey can fly but see flight as a metaphor for freedom, not just a means of locomotion far less tedious as walking everywhere. Even if you have a horse or a carriage, it's still walking even if someone else (the horse) is doing the walking! The fey have devised portals that take them from one place to another in the blink of an eye as well, so even those who cannot fly rarely have to actually walk very far! There's also some of the common myths and legends about the fey... which may or may not be completly accurate!
Then from Chapter 3: World of Faerie, we can learn a little about the place where the fey dwell, called FaerieLand. It's quite different from what the fey call 'mortal lands', i.e. the Prime Material Plane in which your campaign world is almost certainly located. There's a list of some of the most pronounced differences (and a note that if you want to know more or even have a 2-page map of FaerieLand, you need the full Faeries book!).
This is followed by Chapter 4: Magic of Faerie which gives a glimpse of some of the goodies in store for these most magical of folk, and how they power their spells. There's also a brief guide to fey vocabulary and pronunciation. Like any good dictionary, it comes in fey/common and common/fey versions. If you can get your tongue round Irish it will be a doddle. We also hear about the Wild Hunt complete with full statistics for the Master of the Hunt and one of the Hounds, along with legends about them and campaign ideas involving them. This is exclusive material, and why even if you have Faeries, you ought to grab this as well. Finally, there's an example creature, the Faerie Dragon, complete with all the details you need to incorporate them into your game.
If you haven't got Faeries yet, reading this will give a good idea of what's in it, and even if you have, there's some bonus material that will be of use.
Return to E-Fairies page.
Reviewed: 17 October 2019