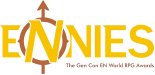 Here are the entries for the ENnies in 2019.
2CGaming, LLC
Epic Legacy Core Rulebook
Tyrants & Hellions
3 Toadstools Publishing
9th Level Games
The Tragedies of Middle School
Aaron A. Reed
AAW Games
Mini-Dungeon Tome
Adventureaweek.com
Future's Past: Infinity Incursion (4 of 5)
Occult Secrets of the Underworld
Absolute Tabletop
Adventure Kit: Shadows Over Driftchapel
The Mecha Hack
Be a Better Game Master: Inspire the Tavern
Adventures in Filbar/Murder Hobo, Inc.
Murder Hobo, Inc.
Murder Hobo, Inc.: Between the Rolls
Alex Klippinger
Andrew Bishkinskyi
Anne Gregersen
Little Heroes: A Guide to Children at the Table
Sir Alkian's Guide to Surviving the Apocalypse
AnnesFlashBack
Anthony Joyce
The Heir of Orcus: Verse I & II
Appendix N Book Club
Ardens Ludere
Artificer Games
Misfortune: Dramatic Roleplaying
Ashley Warren Writes
The Executioner's Daughter
Uncaged Volume I
Asians Represent!
Asians Represent! podcast
Astrolago Press
Faerie Fire, a 5e Supplemental
Atlas Games
Unknown Armies 3: Campaign Starter Kits
Baldman Games
MOON 2-2 Army of the Unseen
MOON 3-1 Atop the Fairheights
Moonshae Isles Regional Guide
Ben Heisler
Bloat Games
SURVIVE THIS!! Dark Places & Demogorgons: THE CRYPTID MANUAL
SURVIVE THIS!! Vigilante City: Core Rules
SURVIVE THIS!! Vigilante City: Villain's Guide
SURVIVE THIS!! Zombies! 2nd Edition
Blue Sword Games
Boccob's Blessed Blog
Broken Ruler Games
By the General's Hand
High Plains Samurai Roleplaying Game
The Official High Plains Samurai Website
Buried Without Ceremony Games
Campaign Coins
Deven Rue Map Weights
Epic D20 Coins
Cannibal Halfling Gaming
Cat Evans & Liz Gist
Extraordinary Inns & Taverns
Catalyst Game Labs
BattleTech: Forever Faithful
BattleTech: Iron Dawn (Book 1 of the Rogue Academy Trilogy)
BattleTech: Legacy
Cementville Games
Chaosium
13th Age Glorantha
Alone Against the Dark
Call of Cthulhu Starter Set
Call of Cthulhu - Terror Australis 2nd Edition
Masks of Nyarlathotep
Miskatonic University: The Restricted Collection
Runequest
RuneQuest: Gamemaster Screen Pack
RuneQuest: Gloranthan Bestiary
RuneQuest: Roleplaying in Glorantha Slipcase Set
Scritch Scratch
The Glorantha Sourcebook
ChimpionsRPG
Christopher Willett
Planeswalkers of Ravnica
Ravnica Revealed: The Guildemaster's Toolbox
Cobalt Sages Creations
Aberrant Codex: Aberrant Allies
Creature Curation
Revilo: Creature Collection Volume 1
Creature Curation/Norse Foundry
Cardography: Break Through the Icy Divide
Cardography: Enter the Fiery Pits
Critical Dice
Cthulhu Reborn
Dateline: Lovecraft #1: Arkham, 1928
Cubicle 7
Warhammer Fantasy Roleplay Core Rulebook
Laughter of Dragons for The One Ring
Bree-land Region Guide for Adventures in Middle-Earth
d20 Dames
d20 Dames
Escape from the Fortress of Memories
Safety Guaranteed
D&D Adventurers' League/Alan Patrick
DDAL-ELW00 What's Past is Prologue
D&D Adventurers' League/Greg Marks
CCC-GHC-BK1-07 The Peculiar Case of Selptan Felines
DDAL-ELW01 Murder in Skyway
DDAL00-09 Minsc & Boo's Guide to Stuff and Things
DDAL07-18 Turn Back the Endless Night
DDHC-MORD-01 Riddle of the Raven Queen
Durnan's Guide to Tavernkeeping
Mirt's Undermountain Survival Guide
Daedalum Analog Productions
Behind the Masc
Script Change RPG Toolbox
Thoughty
Dana Cameron
CATS&CATS: cat cat catcat cat catly cats
Darklight Interactive
Dave McAlister
Dnd5e.info
Modus Operandi
David Brunell-Brutman
Hogwarts: An RPG
Hogwarts: An RPG Website
David Hartlage
David Hopkins
Red War: Lost Ashes of a Wayward Gnome
The Verdantium: A Red War Roleplaying Guide
David Markiwsky
Gimble's Guide to the Feywild
Delenia Creations
Duality: A Guide to Half Races
Density Media
Fishscale
Nice Monsters & Scary Sprites
Strings: A TTRPG Supplement About Death, Life, and the Fallacy of Memory
Dicegeeks
DMs Guild Adepts
Waterdeep: City Encounters
DMSGUILD
The Curse of Skull Island
Dog House Rules LLC
Trailer Park Shark Attack!
Don't Split the Podcast Network
Table Top Babble
The Demonplague
Dream Machine Productions
Drinking Horn Games
Sagas of Midgard Corebook
Dungeon Channel
DunGen: High Resolution Dungeon Generator for Discord
Dungeon Master of None
Dungeon Rollers
Dungeon Solvers
DUNGEONFOG KG
DUNGEONFOG: Free Online Map Maker & Authoring Tool
DUNGEONFOG: Premium Online Map Maker & Authoring Tool
Dwarven Forge
Dwarven Forge's Dungeon of Doom Free Module
Dwarven Forge's Dungeon of Doom Modular Terrain
Dying Stylishly Games
Cavegirl's Game Stuff
Esoteric Enterprises
The Stygian Library
Elven Tower Cartography
Cartography and Adventure Collection
Encoded Designs
Hydro Hacker Operatives: Ashcan Edition
Iron Edda Accelerated
Mark's Half-Eaten Burger Larp
Escape Box Games
Suited: Free Sample Edition
Suited: Playset Booster Pack #1
Suited: Playset Booster Pack #2
Fandible Podcast Network
Fandible Actual Play Podcast
Fandible Longshot
Fandible Soloshot
FASA Games
Felix, J.
Knights & Legends Tabletop RPG
FeralGamersInc
Ghost Ops: Modern Day Covert Operations
Ghost Ops: Operation Snowstorm
Free League Publishing
Forbidden Lands: Retro Open-World Survival Fantasy RPG
Symbaroum Monster Codex
Coriolis: Emissary Lost
Galileo Games
Game Geeks
Gamerati
Garret Colón
CCC-OCC-01 Red War: Housekeeping
Geekstable
A Complete Guide to Creating Epic Campaigns
How to be a Great GM podcast
Genesis of Legend Publishing
Ginny Loveday
DDAL-ELW4 Jack of Daggers
Go Nerdy LLC
Power Outage: Core Guide Book
Golden Goblin Press
The 7th Edition Guide to Cthulhu Invictus
Grumpy Old Gamers
Ham-Fisted Productions/Unwinnable
Helmgast AB
KULT: Divinity Lost, 4th Edition of KULT: Core Rules
The Black Madonna
KULT: Divinity Lost: Tarot Deck
HeroMuster
Encounters: For Planning and Running RPG Encounters
Hex Games
American Artifacts: The Complete Collection
High Level Games
High Rock Press
Champions Character Creation Cards
Champions Character Creation Cards Expansion Pack
Highland Paranormal Society
In the Light of a Ghost Star
Temple of the Bat Serpent
HopePunk Press
Spaceships and Starwyrms: Core Sourcebook
HPL Historical Society/Chaosium
Dark Adventure Radio Theatre: Masks of Nyarlathotep
Masks of Nyarlathotep Gamer Prop Set
Hydra Cooperative
The Ultraviolet Grasslands: Free Introduction
What Ho, Frog Demons!
Witchburner
Infinite Black
Elder Dice: Unspeakable Tomes
Doom Edition Lorecrafter GM Screen
Orb and Path Lorecrafter GM Screen
Inkwell Ideas
Sidequest Decks: After the Total Party Kill
Sidequest Decks: Lovecraftian/Paranormal
Insane Angel Studios
The Hidden Halls of Hazakor
Introcaso Creative, LLC
Tactical Maps: Adventure Atlas
The Demonplague
World Builder Blog
Iron GM Games
Jeff C. Stevens
Villains & Lairs
Encounters on the Savage Seas
The Madhouse of Tasha's Kiss
Jon Hodgson Illustration
Kelly Riley Mangerino
Knight Errant Media
Titan Effect: The Role-Playing Game
Knights of Vasteel
Magwa's Magic Item Compendium Mobile App
Kobold Press
Creature Codex for 5th Edition
Lamentations of the Flame Princess
Eldritch Cock
Going Through Forbidden Otherworlds
No Rest for the Wicked
Obscene Serpent Religion 2
Random Esoteric Creature Generator
She Bleeds
Sounds of the Mushroom Kingdom
The Punchline
Land of NOP LLC
SIGMATA: This Signal Kills Fascists
Last Word Audio
Sly Flourish's Return of the Lazy Dungeon Master (audio book)
Lauren Bryant-Monk
Lazy Litches Loot
Woodfall: Dark Fantasy Mini Setting
Legendary Games
Aethera Field Guide I
Alien Bestiary
Forest Kingdom Campaign Compendium
Pirate Campaign Compendium
Star Empires
Limitless Adventures
5th Evolution: Mystery in the Sahara
5th Evolution: Tunnel of Terror
5th Evolution: Conflict in Carbide City
Lion Forge
Rolled & Told No. 5
Rolled & Told No. 6
Rolled & Told No. 8
Loke BattleMats
Giant Book of Battle Mats
The Big Book of Sci-Fi Battle Mats
Lone Wolf Development
Hero Lab Online for PF Playtest
Realm Works Content Market
Luciella Elisabeth Scarlett
Shit Bird Shit Fight
Two Aromantics Spend an Entire Day Doing Everything Except Experiencing Romantic Attraction
Lunar Games, Inc.
Endless Realms: Corebook
Endless Realms: Creature Compedium
Ma'at Crook
Magpie Games
Bluebeard's Bride: Book of Lore
Bluebeard's Bride: Book of Mirrors
Bluebeard's Bride: Deck of Mysterious Objects
Bluebeard's Bride: Book of Rooms
Bluebeard's Bride: Tarot of Servants
Secrets of A.E.G.I.S: A Masks Supplement
Unbound: A Masks Supplement
Mana Project Studio
Journey to Ragnarok
Journey to Ragnarok: d24 RuneDice
Journey to Ragnarok: Game Master Screen
Manifest Zone
Manifest Zone: Exploring the World of Eberron
Matthew Kay
Mud & Blood: A Podcast Dark & Grim
Melsonian Arts Council
Menagerie Press
Careless Adventurer's Guide to Hazards
CCC-SFBAY-04-03 The Ashen Scar
Swords of the Moonsea: Five Adventurers
Metal Weave Games
Baby Bestiary 5e Beast Companions
Baby Bestiary: Caretaker Warlock
Embers of the Forgotten Kingdom (Standard Cover)
Embers of the Forgotten Kingdom (Deluxe Cover)
Michael Terlisner Publishing
Miniature Giant Space Hamster Press
Midnight in the City of Brass
Misdirected Mark Productions
Down with D&D
Panda's Talking Games
She's a Super Geek
The Gnomecast
The Misdirected Mark Podcast
Miskatonic University Podcast
Miskatonic University Podcast
Mitchell Smithson
CCC-GHC-BK1-02 The Tithes That Bind
Modiphius Entertainment
Star Trek Adventures: The Sciences Division Supplemental Rulebook
Star Trek Adventures Miniatures: The Next Generation Away Team
John Carter of Mars: Adventures on the Dying World of Barsoom Core Rulebook
Conan: Horrors of the Hyborian Age
John Carter of Mars: Narrator's Toolkit
Molten Sulfur Press
MonkeyBlood Design & Publishing
The Midderlands Expanded
Murder Knights of Corvendark
Midderzine Issue #1
Monkeyfun Studios
Bedlam Hall: A Terrible Tale of a Continuation of Horrible Events
Spirit of 77: Double Feature #5: Nightmare at 77,000 Feet and All the Anti-Christ's Men
Monte Cook Games
Cypher Play Numenera Season 18-2: Building Amber Keep
Invisible Sun
Invisible Sun in PDF
Numenera 2: Discovery and Destiny Slipcase Set
Priests of the Aeons
Ruin Deck
Secrets of Silent Streets
Slaves of the Machine God
Wicked Keys
Mostly Harmless Games
Mutants in the Night
plot ARMOR
M.T. Black
The Lich-Queen's Begotten
Mundos Colidem
Narrative Dynamics
Goblinville Gazette Issue 1: Rules of Play
Necrotic Gnome
Winter's Daughter: 5th Edition Version
Neo Tokyo Project
NerdBurger Games
CAPERS
Die Laughing
Die Laughing: Sliced Up
Nerdy City
New Comet Games
Devil's Swamp: Encountering Ancient Terrors in the Hockomock
Operation: Arctic Blast
Nicholas Johnson
Nightfall Games
SLA Industries: Cannibal Sector 1
Nomnivore Games Inc.
EMBERWIND: The Skies of Axia Campaign
EMBERWIND: Sunlight and Sky Vignette
NonZero Sum Games
Norse Foundry
Atmar's Adventure Compass
Northland Creative Wonders
Okumarts Games
Darkfast Dungeons Expansion Set Two: Steam & Sword
Operation: Knightshade, A Gramma World Adventure
Contraption Set Four: Explorers
Old Magic Gaming
Oliver Clegg
Orcs Unlimited Games
Big Russ's Big Book of Bugs
Zombie Apocalypse the Musical
Overhead Games
Paige Leitman
DDAL08-10 The Skull Square Murders
Paizo Fans United
Wayfinder #18: Fey and the First World
Panzer8Games
Imaginationland
Return to Isla de Monos: A Monkey Island Tribute
Paper Blossoms
Paper Blossoms: An Unofficial Character Generator for L5R (FFG)
Pelgrane Press
13th Age Dice Tray
Hideous Creatures: A Bestiary of the Cthulhu Mythos
Ken and Robin Talk About Stuff
Loot Harder: A Book of Treasures
See Page XX: The Pelgrane Press webzine
The Book of Ages
The Fall of DELTA GREEN
The Persephone Extraction
Petersen Games
Sandy Petersen's Cthulhu Mythos for 5e
Sandy Petersen's Cthulhu Mythos (Leatherbound)
Phoenix Outlaw Productions
Pickpocket Press
Low Fantasy Gaming (Colour) Deluxe Edition
Pinnacle Entertainment Group
Flash Gordon Limited Edition Collectors Box Set
Planet X Games
Jungle Tomb of the Mummy Bride
Plot Points Productions
Porcupine Publishing
The Elephant & Macaw Banner: Player's Guide
The Legend of the Golden Condor
The Order of the Last
Psychoda Press
The Lesser Key to the Celestial Legion
Questing Beast
R Talsorian Games
Red Moon Roleplaying
Renegade Game Studios
Overlight: The Roleplaying Game of Kaleidoscopic Journeys
Renegade Game Studios/Hunters Entertainment
Retro Role-Player: Chuck McGrew
Don't Look Back: Terror is Never Far Behind 3rd Edition
Rogue Games
Roll 4 Tarrasque
Bakto's Terrifying Cuisine
Room 209 Gaming
R P Davis, Ashley Warren, Christopher Walz, Jeromy Schulz-Arnold, & Scott Bean
Mordenkainen's Lost Notebook
Sage Advice
Sanctum Media
Appendix (Nightmares)
Escape from Yule Mountain
Sanctum Secorum
The Sanctum Secorum Companion
The Sanctum Secorum Podcast
Saturday Morning Scenarios
Scriv the Bard
Heroes of Lyastera: The Luminous Lake
Scriv the Bard: Adventurers Wanted
Scriv's D&D Storytelling Workshops
Scott Bean, Alex Clippinger, Micah Watt
Faiths of the Forgotten Realms
Serpent Cyborg Games
A Cozy Den
Something is Wrong Here
Sersa Victory
Seth Skorkowsky
Skinny Avacado Games
Shawn Tomkin
Sinopa Publishing, LLC
Santa Dragon Claws Presents: Twenty-Five Holiday Magic Items 2018
Tarot Adventures, Book Two: Comet Over Echo Rock
The Steel Road
Whispers of Persephone
Son of Oak Game Studio
City of Mist Player's Guide
City of Mist MC Toolkit
City of Mist Core Set
Sons of the Singularity
Spellburn
Squarehex
The Black Hack 2nd Edition
Stygian Fox Publishing
Fear's Sharp Little Needles
Sweden Rolls
Sweet Potato Press
Swordfish Islands, LLC
Silent Titans
Silent Titans: Digital
Silent Titans: Extras
A New Map of Hot Springs Island
Terminally Nerdy
Game Dev and Getting the Word Out
Pathology: The Champion Fighter
Pathology: The Moon Druid
The Alexandrian
The Dice Girls
The Diecast Podcast
The Gauntlet
Fear of a Black Dragon
The Gauntlet Blog
The Geek Pantheon
Eberron Renewed: A D&D 5e Actual Play Podcast
The Good Friends of Jackson Elias
The Good Friends of Jackson Elias Podcast
The Other Side Blog
The Other Side Blog, OMG: One Man's God Series
The Role Initiative
CCC-TRI-05 Hunt of Malar
CCC-TRI-06 Haggard Heroes
CCC-TRI-07 Beneath the Moonsea
CCC-TRI-08 Dreadful Wail
CCC-TRI-18 Pros & Cons (An Original Adventure by The Role Initiative)
The Rolistes Podcast
The Round Table
The RPG Academy
Film Studies Episode 5: Delicatessen
Trial of Orpheus Protocol: Group 13, Part 1
Theotanium Games
Atarashia: A Gazetteer
Gobsmacked!
Third Eye Games
Thistle Games
Thorny Games
Dialect: A Game about Language and How it Dies
Thumos Games
The Lost Age, Tales from Khem
Tim Hutchings
Magic Fish Pond
A Tiny Person
Total Party Thrill
Total Party Thrill: RPG Advice From Our Table to Yours
Travis Woodall
CCC-3MAGS-ONE Vormestrand's Scroll
DDAL00-08 Layers Upon Layers
TSR
Top Secret: New World Order
Tuesday Knight Games
Mothership: Player's Survival Guide
Mothership: Dead Planet
UFO Press Limited
Legacy: Life Among the Ruins 2nd Edition
Rhapsody of Blood
Ulisses Spiele International
Wrath & Glory, Warhammer 40,000 Roleplay: Core Rules
Torg Eternity: The Living Land Sourcebook
Utherwald Press
Vance Games
Very Random Encounters
VSCA Publishing
The King Machine
Sand Dogs
Wanderer's Haven Publications
A Vile Wake
An Open Secret
Feast of the Moon
Necromancer of Zhentil Keep
Something Vile This Way Comes
Winds of Rot
Wandering Monsters
Wandering Monsters - A Weekly D&D Newscast
Warding Circle
Weapons Grade Funk
HC SVNT DRACONES Second Edition
What Happens Next, Inc.
Comrades: A Revolutionary RPG
Wheel Tree Press
The Sword, The Crown, and The Unspeakable Power
Wild Endeavors
Willy Abeel
Wolfwyzard Press
Word Mill
Wordplay Games
World Anvil LTD
World Anvil Freeman Tier Worldbuilding & Campaign Management Platform
World Anvil Grandmaster Tier Worldbuilding & Campaign Management Platform
Worldbuilding Wizard
World Anvil Custom Themes
Zan's Adventures
Zan's Adventures: Gordon's Bluff
List last updated: 11 June 2019