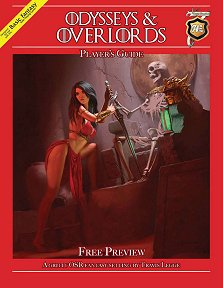 Opening with an account of a golden past, when people lived in harmony with their gods, all was peaceful, a time of learning and of plenty, we then hear how it all went wrong predictably enough by the gods starting to squabble amongst themselves and wrecking it all for everybody else. Mortal lands lie divided, with brave adventurers (guess who?) guiding people between them and dealing with monsters, exploring ruins to find relics of the lost golden age over a thousand years in the past.
Next, there's an overview of character creation. Notes explain that Odysseys and Overlords is designed to be used with the Basic Fantasy Role-Playing Game, but any 'old school rules' will do: it's aimed at those who like that style of play... just about everything you need is here, though. Every character has a genus (equivalent to race) and a class, the one chosen to demonstrate how classes are presented is that of the Bard. It's all pretty familiar if you have played a bard in any class/level fantasy game - bards can fight a bit but their primary skills are in performance (often music, but poets, storytellers and the like can also be played), and through their performance thay can generate spells. There are various charts showing how a bard character gains levels and develops as they gaim experience.
Though short - two whole pages of an eight-page PDF are devoted to the Open Game Licence - this gives quite a good overview of the game/setting as a whole, and should let you decide if you want to investigate further. The little bit of world history provided is evocative and sets the scene well for the sort of game envisaged, encapsulating a world that sounds like it will be fun to adventure in. The notes also suggest that it ought to be easy to introduce younger children to this game, always a good thing. Take a look, and if you like the sound, jump right on in!
Return to Odysseys and Overlords Free Preview page.
Reviewed: 17 May 2019