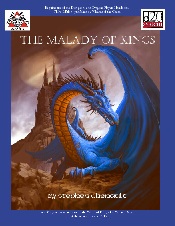 An adventure set in Erde.
Publisher's blurb: "And so the histories tell that Luther, King of Kayomar, Count of Pendegrantz, Paladin and Knight passed from the world of Erde and out upon the Dreaming Sea. He missed the final clashes between the armies of Unklar and Kayomar, as told in the histories of the Catalyst Wars. He missed too, the final battle where his son Robert Luther died after striking a great wound to the Unklar upon the walls of Du Guesilon. And Luther did not return for a thousand years. But in his wake he left behind the restless spirit of his one great love, his wife and Queen, Vivienne. Bound by the wizard Nulak-Kiz-Din upon the Isle of Blight he cannot know of her plight. The players must bring peace to the ghost of Vivienne, St. Lutherís long departed wife. A chance encounter with a long lost tomb will bring the party into direct contact with Lutherís family from the Age of Heroes. The Queen cannot know peace until she knows of Lutherís safety. The party must hazard the Sea of Dreams and conquer the Isle of Blight, and face legendary dragons before they come to the heartland of Lutherís abode to unravel the malady which afflicts the god of dreams himself. A d20 system module it is designed for 4-6 characters of levels 10-12"
More when I get hold of a copy!
Click HERE if you want to buy this book from Amazon.com
Book Details:
Author: Stephen Chenault
Publishers' Reference: TLG 1601
ISBN: 1931275017
Paperback, 40 pages