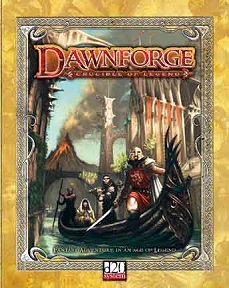 Setting the scene for the Dawnforge campaign world, this book contains all that's necessary for the aspiring legendary hero, or his DM.
Publisher's blurb: "The world of Dawnforge is a mythic land rich in magic and wonder where great empires clash, intrepid explorers journey beyond wild frontiers, and mighty heroes brave epic dangers. It is a land where familiar and beloved races and archetypes are reaching the pinnacle of their glory and wonder. It is a vast and rich realm where newborn nations are still islands of civilization in a dark and unexplored wilderness sea. The world of Dawnforge is a land where the greatest deeds have yet to be done and epic heroes are wrought in the crucible of legend."
More when I get hold of a copy!
Click HERE if you want to buy this book from Amazon.com or HERE if you prefer to use Amazon UK.
Click HERE to get a PDF version from DriveThruRPG.com
Book Details:
Authors: Greg Benage, Mark Chance, David Lyns, Darrell Hardy, Ari Marmell, Wil Upchurch, Ross Watson and Sam Witt
Publishers' Reference: DF01
ISBN: 1-58994-124-1
Hardback, 256 pages
Date: October 2003
Product page last updated: 31 December 2005