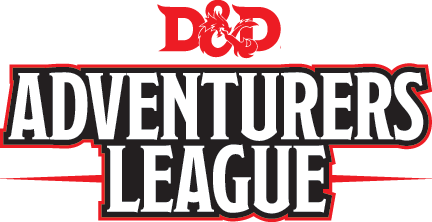 The D&D Adventurers' League is the shared campaign run by Wizards of the Coast for Dungeons & Dragons 5e using the Forgotten Realms setting. Like all shared campaigns, you can play anywhere from conventions to your own home group or even online, and watch your character grow and develop.
Most adventures are presented within 'Storyline Seasons' which provide a theme and plot elements that connect several adventures together, forming a sort of 'mini campaign'. The names may look familiar, they are based around the hardcover adventures published by Wizards of the Coast. For the first four seasons games could be 'Encounters', which were modified versions of the early chapters of the current hardcover adventure and intended for store play, and 'Expeditions', which were longer convention-slot-sized adventures. Thereafter this disctinction was dropped and the Adventurers' League released a series of adventures suitable for convention, store or home play.
There are two other categories of adventure. These are 'Convention Created Content' which are created by and for certain conventions and 'Author Only Adventures' written by Wizards and Adventurers' League staff and if you want to play one of these you have to invite the author around to run it for you! These are harder to get hold of, for obvious reasons, so may not feature here.
| | | |
| --- | --- | --- |
| Season Agnostic Adventures | Season 1: Tyranny of Dragons | Season 2: Elemental Evil |
| Season 3: Rage of Demons | Season 4: Curse of Strahd | Season 5: Storm King's Thunder |
| Season 6: Tales from the Yawning Portal | Season 7: Tomb of Annihilation | Season 8: Waterdeep |
| Links | Reference Material | Resources |
Page last updated: 4 August 2018