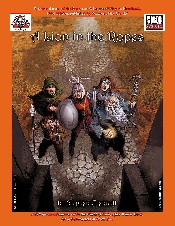 This is the first adventure published for the Erde setting.
Publisher's blurb: "Boots wet from crossing the small river, you tramp up onto the remnants of an old Imperial road. A small village lies before you. It scottages stand arrayed in neat order along either side of the way, muted and dark. The dinner hour is just passed, but no laughter or chatter disturbs the steady drizzle soaking your cloaks. Only the gentle clanking of weapons on armor and the ragged breaths of your band echo in the still quiet. A horror stalks the land, and it is left to you to unravel the mystery that is A Lion in the Ropes. It is designed for 4-8, 2nd-4th level characters."
More when I get hold of a copy!
Click HERE if you want to buy this book from Amazon.com or HERE if you prefer to use Amazon UK.
Book Details:
Author: Stephen Chenault
Publishers' Reference: TLG 1401
ISBN: 0970239750
Paperback, 24 pages