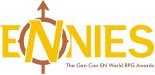 Here are the entries for the 2018 ENnies Awards.
+1 Forward
+1 Forward: A Podcast Powered by the Apocalpyse
0one Games
0one's Blueprints: The Great City - The Elder Wards
0one's Blueprints: Dwarven Depths - North Gate
A Dead Reckoning
AAW Games
Heir & Back Again
Future's Past: Edge Station (1 of 5)
Future's Past: Paying Forward (2 of 5)
Future's Past: First Contact (3 of 5)
Secret Weapons Project
Underworld Races & Classes
Adventureaweek.com
Nerd Trek
Absolute Tabletop
Adventure Kit: Oath of the Frozen King
Be A Better Weapon Master 2
AcadeCon
Faculty Meetings
GM Masterclass
The Trials
Adventure Scents
Cooking with Dice
Cooking With Dice: The Acid Test
Adventures in Filbar
TS1 Heart of Darkness
TS2 Doughty Princess
FAR2 Discord at the Docks
FAR3 Xiomara's Globe
T1 Lord Griffons 40 Golden Eggs
The Bard's Podcast
Alex Clippinger
All My Fantasy Children
Alligator Alley Entertainment
Esper Genesis 5e Heroic SciFi RPG Basic Rules
Amazing Rando Design
Amazing Tales
Appendix N Book Club
Arc Dream Publishing
Delta Green: A Night at the Opera
Delta Green: The Role-Playing Game
Delta Green: The Way It Went Down
Atomic Game Theory
Atramentis Games
Azure Keep
Battlefield Press
Agents of G.A.I.A.
Ben Dunn's Ninja High School the Anime and Manga RPG (Savage Worlds)
Gaslight Victorian Fantasy 3e for Savage Worlds
Terran Trade Authority: The Proxima War
Ben and Aura
Black Book Editions
Black Campbell Entertainment
Blasphemous Tomes
The Good Friends of Jackson Elias
Bleem Games
Dark Mages (v1.5)
Dark Mages: The Arcane Order
Block Party Podcast Network
Broken Ruler Games
Duel
High Plains Samurai: Legends
Bully Pulpit
Buried Without Ceremony
Burning Games
FAITH: the Sci-Fi RPG 2.0 Core Book
Bytes N Brews
Campaign Coins
Campaign Coins Deven Rue Compass Rose
Campaign Mastery
Cannibal Halfling Gaming
Cannibal Halfling Gaming Blog
Catalyst Game Labs
BattleTech BattleMech Manual
Dragonfire: A D&D Deckbuilding Game
Shadowrun: Dark Terrors
Shadowrun: Denver 3: Ripping Reality
Shadowrun: Forbidden Arcana
Shadowrun: The Complete Trog
Shadowrun: Book of the Lost
Shadowrun: The Seattle Gambit
Shadowrun: Sixth World Tarot
Cavalry Games
To Serve Her Wintry Hunger
Chaosium
Khan of Khans
Runequest: Playing in Glorantha Quickstart
The Grand Grimoire of Cthulhu Mythos Magic
The Two-Headed Serpent
Reign of Terror
Down Darker Trails
Petersen's Abominations
Character Creation Cast
Chase Irwin
The Memoirs of Abel Mondragon: Vol. 1: Captivity
Christopher Grey
The Happiest Apocalypse on Earth
Christian Zoltar Bellomo
Christopher West's Maps of Mastery
Distant Frontiers Deluxe Poster Map Set
CM Games
Cone of Negative Energy
Hex Kit
Hex Kit: The Black Spot Tileset
Hex Kit: Traveling Through Dangerous Scenery Tileset
Cosmic Crit
017: Capt Nash's Haunted Ship Club Band
027: The Shape of Slaughter
031: Skreesire Hills K9204
Cubicle 7 Entertainment
Adventures in Middle Earth: Wilderland Adventure
Adventures in Middle-Earth Loremaster's Guide
Adventures in Middle-Earth Rhovanion Region Guide
Cards from the Smoke
Cthulhu Tales
Lone Wolf Adventure Game: Magnamund Menagerie
Doctor Who:- The Black Archive
D351
Foreplay: An Erotic Storytelling Game
Quickie Foreplay
Dames and Dragons
Darker Days Radio
Darker Days Radio #82: The White Wolf, Unchained
Darker Hue Studios
Darklight Interactive
The Coming Dark, Chapter One: Into the Light
The Festival of Magic
Death by Mage
Guide to the Feywild
Journey into the Feywild
Definitely Human Productions
Density Media
Bring That Beat Back
Classic Classes: Fighter
Classic Classes: Ranger
Dance 'Til Dawn
Strong Island
Detentions and Dragons
Dice Geeks
CLASSIC D&D CACHE: BROTHER-IN-LAW GETS HOUSE, I GET 'JUNK'
DIY RPG Productions
Death is the New Pink
Gathox Vertical Slum
Dog Houser Rules LLC
Frontier Towns: Fort Griffin Savaged
Don't Split the Podcast Network
Table Top Babble
Behold Her
Have Spellbook, Will Travel
Dread Unicorns Games
The Gods Have Spoken: Deities and Domains
Drop Dead Studios
Dungeon Master of None
Dungeon Master of None Podcast
Dungeons and Donuts
The Scenario From Ontario: The Most Canadian Pair of LotFP Adventures
Rey and Kiel Can Do! A podcast about games and stuff
Dungeons and Randomness
Dunegons and Randomness Podcast
Ed Turner
By the Author of Lady Windermere's Fan
Elven Tower
Elven Tower Cartography and Adventures
Encoded Designs
Love & Justice
Whirlwind Millionaire
Encounter Roleplay
Turncloaks: D&D5E Dark Fantasy Actual Play Podcast
WanderQuest: D&D5e Actual Play
Evil Beagle Games
Cities of Wonder: Clay Town
Cities of Wonder: Whispering Pines
Filthy Lucre
Unpleasant Discoveries
The Imperial City
Feast of Tigers
Here Be Dragons
Evil Hat Productions, LLC
Blades in the Dark
Dresden Files Accelerated
Dresden Files Cooperative Card Game
Fate Adversary Toolkit
Fate Dice: Fire Dice
Fate Dice: Midnight Dice
Greedy Dragons
Karthun: Lands of Conflict
Fabled Environments
Buccaneer: Through Hell and High Water
The Monster Hunters Club-Preview
Fandible
Fandible Actual Play Podcast
Soloshot: Star Wars Force & Destiny, Episode 2x05
Longshot Ep. 56
Fear of a Black Dragon
Free League Publishing
Mutant: Mechatron
Our Friends the Machines: Tales from the Loop RPG
Game Salute
Game Soapbox Productions
Lucid Dreams Role-playing Engine
GameFace Publishing, LLC
Gameplaywright
The White Box: A Game Design Workshop-in-a-Box
Beating the Story: How to Map, Understand, and Elevate Any Narrative
Friendly Local Game Store: A Five-Year Path to a Middle-Class Income
GamersTable Society
Openly Gamer Theatre: High Plains Samurai
Games Collective
Gaming Paper
Double Sided Dry Erase Tiles
Gate Keeper Games
Halfsises Dice: Yin Yang
Halfsies Dice: Queen's Dice
The Gauntlet Podcast
Geeks a Gogo
Geeks a Gogo Game Reviews
Genesis of Legend Publishing
Sig: Manual of the Primes
Genius Loci Games
Genres Game System, LLC
Going Somewhere: The Roleplaying Game
Ghostly Rituals
Dead Friend: A Game of Necromancy
Glowburn
Going Last Tabletop Gaming Podcast
Gnome Stew
Gnome Stew: The Gaming Blog
Godsfall
Godsfall Worldbook
Godsfall Episode 68: The City of Gold
Greater Than Games
The Letters Page Podcast
Sentinel Comics: The Roleplaying Game Starter Kit
Green Ronin Publishing
Critical Role: Tal'Dorei Campaign Setting
The Book of the Righteous
Six of Sword
Freeport Bestiary
Freedom City
Greg Marks
Lost Tales of Myth Drannor
CCC-CIC-08 The Last Voyage of the Woolgathering Tidsoptimist
DDAL06-02 The Redemption of Kelvan
Grim & Perilous Studios
Growling Door Games
Hebanon Games
Red Markets: A Game of Economic Horror
Hero Forge Games
Forge Engine Universal Role-playing System
High Rock Press
Jess Nevins' Encyclopedia of Golden Age Superheroes
Darren Watts's Golden Age Champions
Michael Surbrook's Ghosts Ghouls & Golems
Higher Grounds
Warsong Second Ed.
Slasher RPG
Super Retro Sourcebook Vol. 1
Human Hand and Brain
Seco Creek Vigilance Committee
Hydra Cooperative
Mortzengersturm, The Mad Manticore of the Prismatic Peak
Operation Unfathomable
Hypernode Media/Tayler Corporation
Imagining Gamer
Dreamchaser: A Game of Destiny
Infinite Black
Inkwell Ideas
InnRoads Ministries
Intellistories
Seven Worlds Setting Guide
Seven Worlds Campaign Book
Introcaso LLC
World Builder Blog
Cellar of Death
Island of Bees
Westbound: Dust and Dragons
J. Halk Games
Järnringen
Karvosti: The Witch Hammer
Jean Lorber
Jetpack 7
John Brazer Enterprises
Deadly Delves: The Gilded Gauntlet
Deadly Delves: The Dragon's Dream (PFRPG)
Deadly Delves: Nine Lives For Petane (PFRPG)
John Wick Presents
7th Sea: Nations of Théah, Vol. 1
7th Sea: Nations of Théah, Vol. 2
7th Sea: The Crescent Empire
7th Sea: The New World
Songs from the 7th Sea
Pirate Booty Box
Kelsam Tabletop
Kelsam Tabletop
Token Caster
Ken Zieger Games
The Dragon Role Playing System
Killer Snails
Kobold Press
Midgard Digital Map
Midgard DM Screen for 5th Edition
Midgard Heroes Handbook for 5th Edition
Midgard Worldbook for 5th Edition and PFRPG
Kort'thalis Publishing
Adventure Writing Like A Fucking Boss
Battle for the Purple Islands
Dead God Excavation
The S'rulyan Vault II
Player's Handbook Like a Fucking Boss
Lamentations of the Flame Princess
Fish Fuckers
Frostbitten & Mutilated
Vaginas are Magic
Le Trip Fantastique
2 Sided Roleplaying
3 Minutes to Roleplay
Adventures in 54 cards: the instant tales RPG
CARTOMANCY the 54-card Role-Playing Game
Legendary Games
Royal Tournaments (5e)
Legendary Planet: To Worlds Unknown (SF)
egendary Beginnings: A Feast of Flavor
Aetheric Heroes
Faerie Bargains (Pathfinder)
Fort Scurvy
Lone Wolf Development
Loot the Room
Bulette Storm
Loot the Room
Loresmythe
Remarkable Inns & Their Drinks
Ma'at Crook
Bleeding Gate: Amalgamation
Bleeding Gate: Lineage
Bleeding Gate: Pandemonium
MAD Design, Inc
So, A Cleric and a Vampire Walk Into a Tavern...
Magpie Games
Bluebeard's Bride
Bluebeard's Bride: Book of Rooms
Cartel Quickstart
Epyllion: Encyclopedia Draconica, Volume 1: Tales and Stories
Masks: Halcyon City Herald Collection
Masks: Desk of Influence
Masks: Deck of Villainy
Make Believe Games
Revolutionaries: Join or Die
Many-Sided Dice Publishing
Lost Artifacts of Greyghast: A 5e Magic Item Compendium
Mayhem in Paper
Melsonian Arts Council
Melvin Smif's Geekery
Menagerie Press
CCC-PDXAGE-02-01 The Dark Hunt
CCC-PDXAGE-01-01 The White Well
CCC-SFBAY-04-01 The Cornflower Hive
Merwin-Petrecca-Stevens
Mesa Mundi Inc
Metal Weave Games
Roleplay Cafe: Where Tabletop Gamers come to play
Atlas Animalia
Michael Maenza
CCC-CIC-06 End of the Line
Michael Terlisner
Michael Wolf
Stargazer's World: A roleplaying games blog
Mike Myler
Book of Exalted Darkness
Mists of Akuma: Eastern Fantasy Noir Steampunk for Shadow of the Demon Lord
Operation Nazi Smasher
Mindjammer Press
Mindjammer: The Core Worlds Sourcebook
Children of Orion: The Venu Sourcebook (Mindjammer)
The Tears of Ampharool: Capharnaum RPG Quickstart
Minionworks LLC
Troublesome Times in Tumbleson County (A Monster of the Week Actual-Play)
Welcome to Dooneyland! (A Happiest Apocalypse on Earth Actual-Play)
Minion Minute
Misdirected Mark
Misdirected Mark Podcast
Down with D&D
Panda's Talking Games
Hobbs and Friends of the OSR
Wednesday Evening Podcast All-Stars
Gnomecast
Cypher Speak
She's a Super Geek
Miskatonic University Podcast
MUP 141: Chris Spivey, Special Collections
Modiphius Entertainment Ltd.
Corvus Belli: Infinity Players Guide
Robert E. Howard's Conan: Adventures in an Age Undreamed Of
Robert E. Howard's Conan The Barbarian
Robert E. Howard's Conan The Book of Skelos
Star Trek Adventures
Star Trek Adventures Miniatures: 32mm miniatures The Next Generation
Star Trek Adventures Gamemaster Screen
Molten Sulfur Press
Archive: Historical People, Places, and Events for RPGs
MonkeyBlood Design & Publishing
The Midderlands: An OSR Setting & Bestiary
Monkeyfun Studios
Monsters of the Guild
Monte Cook Games
Jade Colossus: Ruins of the Prior Worlds
Escape from the Jade Colossus
Ninth World Bestiary 2
The Night Clave
Uh-Oh, Monsters!
Predation
Predation: The Age of Crest and Bone
Predation: The Cawdor Complex
Unmasked
Myth of the Maker
I'm a Guide
Unmasked in the City
Unmasked: Day 1
The Infinity Shift
Dread Expectations
Mount Ogden Gaming Company
Trouble in the Old City
CCC-MACE01-01 The Blight of Geoffrey
CCC-Anime01-01 Legend of the Sword Bandit, Surprise!
Mutha Oith Creations
Holy Crap, The Great Sects Change Operation
MVmedia LLC
Ki Khanga Sword and Soul Role Playing Game: Basic Rules
Neon Rival
Neon Rival Presents: Tomb of Annihilation
Nerd Trek
Nerd's Domain
Nerdarchy LLC
Newbie DM
NF Studio
Norse Foundry
Adventure Coins: Norse Themed Roleplaying Metal Gaming Coins
Northland Creative Wonders
Nothing Ventured Games
Okumarts Games
Olde House Rules
On the Shoulders of Dwarves
On the Shoulders of Dwarves
One Shot Podcast Network
The Other Side
Paizo
Wayfinder Bestiary
Starfinder Alien Archive
Starfinder Adventure Path: Incident at Absalom Station (Dead Suns 1 of 6)
Starfinder Flip-Mat: Cantina
Starfinder Alien Archive Pawn Box
Pathfinder Campaign Setting: Inner Sea Taverns
Starfinder Pact Worlds
Pathfinder Society Scenario #9-11: The Jarlsblood Witch Saga PDF
Starfinder Society Roleplaying Guild Scenario #1-09: Live Exploration Extreme! PDF
Paradigm Concepts, Inc
Forged in Magic: REFORGED
Parhelia Games
Party of One
Paths to Adventure
The Big Book of Maps for Tabletop Roleplaying Games - Volume 1: Fantasy Adventure
Pelgrane Press
Out of the Woods
13th Age Bestiary 2: Lions & Tigers & Owlbears
Cthulhu Confidential
Ex Astoria: A Cthulhu Confidential adventure
#Feminism
Fire & Faith: Battle Scenes for Four Icons Map Folio
Ken And Robin Talk About Stuff
See Page XX: The Pelgrane Press webzine
The Shadow Over Washington: A Cthulhu Confidential adventure
Timewatch: The Valkyrie Gambit
Timewatch: Game Master's Screen and Resource Book
Petrecca Entertainment LLC
Plate Mail Games
The Numenera Audio Collection
Plot Points
Poison Potion Press
Posthuman Studios
Eclipse Phase Second Edition Quick-Start Rules
Privateer Press
Iron Kingdoms: Strangelight
Q Workshop
Metal Call of Cthulhu Dice Set
Raging Owlbear
Raging Owlbear: GM 101: Does Story Trump Rules?
Raphael Lima
Potiguares: the natives of Rio Grande do Norte
Rarr! I'm A Monster Publishing
Agents of the Funk
Beware, The Spider Queen!: Rarr I'm A Pocket Game # 14
Spare Parts: Rarr I'm A Pocket Game # 15
Ravendesk Games
Vurt: The Tabletop Roleplaying Game
Reaper Miniatures
Ma'al Drakar, Dragon Tyrant
Redemption
Redemption Star Wars Actual Play Podcast
Rob Silva
CCC-CIC-04 Best Friends Forever
Robert Bohl Games
Misspent Youth
Misspent Youth: Sell Out with Me
RPG Casts
RPG Net
RPG Resource
Rob Twohy (rob2e)
Fantasy Grounds 5e Coding Package
Robert Silva
Rogue Games, Inc
Shadow, Sword & Spell 2E
Colonial Gothic: Settings
Rolistes Podcast
The Rolistes Podcast: Episode 24: Armagnac, Strudel, Munchausen, James Wallis & a Few Other Friends
Roll for Combat
Room 209 Gaming
Rowan, Rook, and Decard
Samjoko Publishing
Samurai Sheepdog
The Book of Many Things Volume 1: Order and Chaos
Sanctum Media
Sanctum Secorum Companion
Sanctum Secorum Podcast
Sanctum Secorum Blog
Saturnine Studios
Saving Throw
Scratchpad Publishing
Seth Skorkowsky
Shoreless Skies
Heavy Metal Thunder Mouse
Skeleton Key Games
Arcane Scrollworks: First Level Spell Treasury II
Sly Flourish
Sly Flourish
Sly Flourish's Fantastic Adventures
DM's Deep Dive
Son of Oak Game Studio
City of Mist RPG: Core Book
City of Mist RPG: Location Maps
Sonic Realms
Spectrum Games
Spellburn
The Complete Guide to Warriors of the Cosmos
Spellburn
Spidermind Games
Elite Dangerous Roleplaying Game
Starwalker Studios LLC
Stormforge Productions
Strange Corpse Posse
Strange Corpse Posse Podcast
Stephanie Bryant
Stygian Fox
Hudson & Brand, Inquiry Agents of the Obscure
Swordfish Islands
The Dark of Hot Springs Island
A Field Guide to Hot Springs Island
Sword's Edge Publishing
Syrinscape Pty Ltd
Ultimate Starfinder Megapack
Tabletop Audio
Tabletop Audio: Original Ambiences and Interactive SoundPads for Games and Stories
Tabletop Potluck
Tales of Blood and Stone
Tales of Blood and Stone Podcast
Tavern Tales
Teos Abadia and Eric Menge
Terminally Nerdy
Third Eye Games
Travis Woodall
DDAL06-01 A Thousand Tiny Deaths
Total Party Thrill
Total Party Thrill #107: An Introduction to Role-Playing Games & Beginner's Luck
TPT #131: Lawful Good & The Goody Two-Shoes
TPT #122: Randomly Generated Backstories & The Armored Arcana
Tribality
Two Starving Gnolls
UFO Press
Legacy: Life Among the Ruins 2nd Edition
Ulisses North America
Torg Eternity Core Rules
Torg Eternity: Day One Adventures
Torg Eternity Delphi Missions: Rising Storm
Torg Eternity Drama Deck
Torg Eternity Soundtrack
The Dark Eye Warring Kingdoms
The Dark Eye Aventuria Map Set
Up to Four Players
Vagrant Workshop
Venture Maidens
Walking Away from Arcadia
Walking Away from Arcadia: Beyond the Mists I
We Hate Bards
Tremulus: A Favor for Doctor Johnson
Vampire the Masquerade: One Big Misunderstanding
Call of Cthulhu: Dr Bobin's Memorial Hospital
Weird 8
Wet Ink Games
Wild Skies: Europa Tempest
The Bear and Brunhilde: A Wild Skies Adventure
Why Not Games
Surial Bear Folk of the North (5e)
Slaves of the Earthlings
William Beers
CCC-KUMORI-01-01 Wreckers
WGP Studios
The Classic FASERIP Podcast
Wicked Clever
Wrong Bothers Gaming
Zadmar Games
Saga of the Goblin Horde
Blood and Bile
Company Product list last updated: 1 June 2018