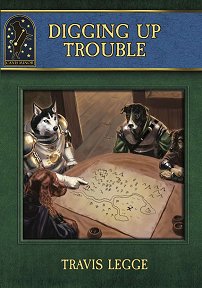 An adventure for characters of 1st-3rd level.
Publisher's blurb: "Professional brigand, ne'er-do-well, and troublemaker Cooper Mutt has come into possession of a map that supposedly leads to buried treasure. As he makes his way towards Houndton, by way of Waterdog Port, he is assailed by a band of ruffians. The party, traveling to Waterdog Port to carry a message, happens upon the scene of this scuffle. With the party's aid, Cooper should be able to easily run the ruffians off.
"Impressed by the heroism of the characters (or because he is bored/lonely/needs extra sets of hands) Cooper asks them to accompany him to find a great treasure! According to his map it shouldn't be far from their meeting place at all. Just a little walk toward the riverbank. What Cooper neglects to mention is the fact that there are pirates from the crew of the Miss Fortune hot on his trail.
"The characters must decide who to trust and possibly fight for their lives as the situation escalates into a wild free for all! The prize is a chest full of plastic, unusual Masterwork items that once belonged to an ancient bandit, and the gratitude (or enmity) of the assembled parties."
Book Details:
Author: Travis Legge
Publishers' Reference: Unknown
ISBN: n/a
PDF, 15 pages
Date: February 2018
Buy this product:
Product page last updated: 23 February 2018