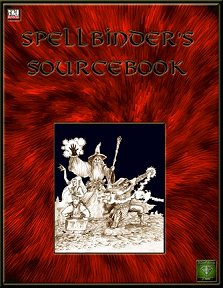 A collection of new spells, plus spells from earlier Bloodstone Press works updated to v3.5.
Publisher's blurb: "The Spellbinder's Sourcebook contains 50 arcane spells. Wizards, sorcerers and any other arcane caster can find dozens of useful and innovative spells within these pages. Amazing new spells such as creeping shadows are presented for illusionists. Horrible new necromancies like vampiric youth and death shadow, which plagues the target with a life-draining parasite are also included in this collection. There are also spells designed for transmuters such as invulnerability and acid reflex attack. There are several spells that manipulate the flow of time in this collection as well. Spells like time leap, time stall, and time sense can give a caster control over the most powerful force of all - Time. There are many new spells for diviners, conjurers and evokers in this collection as well. For example, the deadly 8th level spell entropic blade is a powerful conjuration that inflicts excessive suffering on lawful creatures."
More when I get hold of a copy!
Click HERE to buy this from RPG Now.
Book Details:
Authors: Unknown
Publishers' Reference: NG1013
ISBN: Unknown
PDF, pages unknown
Date: February 2004