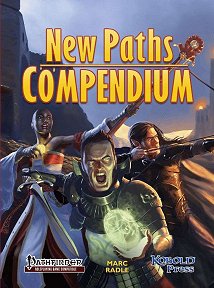 But there already is a New Paths Compendium you may ask - and that was an excellent book which came out in 2013. In the Introduction to this 'expanded' version, the lead author tells about how, whilst pleased with the first book, had loads of ideas on how to improve it, and had also added two more individual classes to the New Paths line and dreamed up a few more that hadn't seen the light of day, so this volume is the result.
It does, of course, draw on the original. The first section presents classes old and new, some twelve of them. We revisit the spell-less ranger and the battle scion amongst others, but get to meet the tinkerer who has never before seen the light of day. Each one gets the full write-up you'd expect, complete with a dramatic picture and all the game mechanical details you need to create a character as well as plenty of flavour information to convince you that it would be fun to play. If you use Kobold Press's Midgard setting there are also notes on how each class fits in there. The fun thing about all of these is that they put disparate combinations together and make them work. If you are the sort of gamer who wonders what would happen if your rogue could also cast spells or your wizard was good with a rapier, this gives you a chance to try such ideas out without having to struggle with multi-classing - when you need to be at a considerably high overall character level before you see much benefit, and even then your character will be weaker than those who have stuck to a single class. These are more than mere combinations of classes, a bit from here and a bit from there, though. Each is built into a coherent class than stands in its own right.
This is followed by a vast collection of archetypes. These provide alternate paths for a given class to follow, presented for original classes as well as the new ones offered here. Each variant lets you put a different spin or emphasis on the class you've chosen, and there are so many that you'll probably have difficulty choosing which one to play! Some are hyper-specialist and may have limited use, others are tremendously versatile and able to adapt to many situations. It's always a good idea to check with the GM that the character you propse fits in with the adventures he's planning, but even more so with these.
The next couple of sections present new feats and new spells. Many are designed to make the most of the new abilities displayed by the new classes presented here, but many can be used to enhance existing characters or enable them to be tailored to fit your vision of what you want them to be able to do. Some are tied to a particular class, others are available to all comers, or at least those who meet the pre-requisites.
The fifth section deals with gear and magic items. It's not very long but there's an assortment of new weapons and some magical items including some legendary ones. You could write whole campaigns about those - questing for them perhaps. Finally, there's a rather useful collection of 'tracking sheets' for everything from your character's progression to how many arrows he still has.
If you like playing with novel concepts or have ever wondered what would happen if x character could also do y, this is something to delve into and experiment with. Yet, it is not an exercise in power-gaming. Each class and archetype is rounded and balanced, and their introduction will not make life difficult for those who are content with a core class character. Have fun!
Return to New Paths Compendium Expanded Edition page.
Reviewed: 19 January 2018