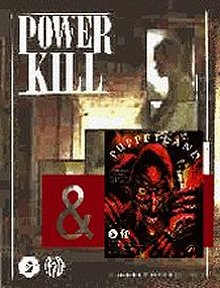 Two games bundled together... both liable to make you think as well as to prove entertaining.
Publisher's blurb: "Puppetland is a surreal childish nightmare in a world of puppets, where Mr Punch has killed the kindly old Maker and usurped control of the puppet land with his vile henchman and their wooden thugs, the Nutcrackers. But Judy, Punch's former lover, is determined to rid Puppetland of his evil. With ground-breaking mechanics, an innovative take on the whole idea of role-play and a completely unique 'story-book' style of narration, Puppetland will amaze and disturb you.
"But it won't disturb you as much as Power Kill will. Already being hotly debated in newsgroups and on internet discussion boards, Power Kill is a meta-RPG of psychological upset which explores the boundaries between reality and make-believe, and asks unpleasant questions about where players end and player-characters begin. This game will twist your mind. You'll never think of RPGs the same way again."
More when I get hold of a copy!
Book Details:
Author: John Tynes
Publishers' Reference: HOG401
ISBN: 1-89-974920-9
Paperback, 24 pages
Date: 1999