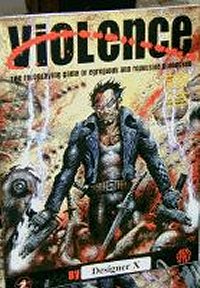 NOT something to leave lying around where Grandma or the Vicar might see it... but if you occasionally like to imagine totally unrestrained carnage, go ahead.
Publisher's blurb: "VIOLENCE brings the hack-and-slash genre up to date with a bang: this is full-on 1999-style gore-filled chaos: city centres, offices, apartments and tenement blocks just stuffed with experience points waiting to be claimed. How many can you amass before the SWAT team finally takes you down? The game includes rules for damage done by household implements (including the different damage inflicted by belt and orbital sanders), lists of innocent-victim types, and an extremely dubious section on sex."
More when I get hold of a copy!
Book Details:
Authors: Unknown
Publishers' Reference: HOG402
ISBN: 1-89-974921-7
Paperback, 32 pages
Date: Unknown