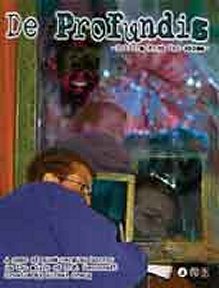 Sounds intriguing... a psychological game of horror... they say you need to be mentally-stable to play it (but will you stay that way?).
Publisher's blurb: "Games within games and worlds within worlds: horrors lurk behind the corners of everyday existence and stories of fears beyond imagination come in letters from strangers. De Profundis is a revelation in gaming, a return to the noble roots of horror with an entirely new style of play. Share your experiences with others and read as their descriptions link together, creating a tapestry of psychological terror in a web that covers the globe, to ensnare you utterly.
"De Profundis is a radical GM-free role-playing game of modern and 1920s horror in the style of H.P. Lovecraft. It can be used solo or with a group. Written in an atmospheric and immersive style, this book contains all the information you need to enter the game's disturbing world, as well as a description of psychodramatic role-playing techniques."
More when I get hold of a copy!
Book Details:
Author: Michal Oracz
Publishers' Reference: HOG405
ISBN: 1-89-974935-7
Paperback, 32 pages
Date: Unknown