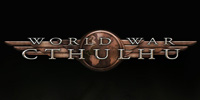 The forces of fascism have overwhelmed Europe. Britain fights on desperately, and every man and woman must do what is necessary to avoid defeat. In forgotten corners, darkness stirs. The cycles of the ancient god-things are measured in millennia, but those who serve them plot to take advantage of the chaos of conflict to advance their own schemes.
For an unlucky few, the war collides with evils out of time, and they see and learn things that humanity is ill-prepared to encounter. The truly unlucky survive, and come to the attention of a certain spymaster, code letter N, who has plans for them. Pressed into the British Secret Intelligence Service, they are thrown into a desperate two-front war against the Axis forces and the insidious menace of the Cthulhu Mythos. Subsequent releases fleshed out the WW2 setting, and then branched out to cover the post-war Cold War era. Throughout, a neat concept is that whilst the Mythos forces might take advantage of earthly turmoil, they're never actually behind it!
World War Cthulhu is published by Cubicle 7 Entertainment.
Page last updated: 6 December 2017