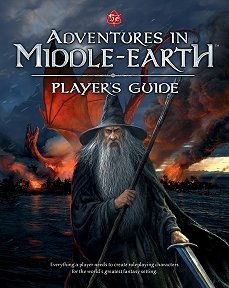 Coming full circle, as the works of J.R.R. Tolkien inspired the original Dungeons & Dragons game, now a custom setting for the latest edition sees the light of day!
Publisher's blurb: "Smaug has been defeated, the Battle of Five Armies has been won, and Bilbo has returned to the Shire. But much danger still remains, and from the Orc-holds of the mountains to the dark and corrupt depths of Mirkwood a darkness waits, recovering its strength, laying its plans, and slowly extending its shadow...
"In Dale, King Bard sends out a call for brave adventurers to journey to Laketown and assist him in restoring the glory of the North.
"The Player's Guide gives you the Middle-earth setting-specific rules and guidance to create your characters and adventure in the world of The Hobbit and The Lord of the Rings using the OGL 5e ruleset.
"Character creation features Cultures and Classes designed for Middle-earth to help you get deep into the setting from the very start of your adventures. New rules add excitement to your journeys and encounters, and chart the corruption of the Shadow in the unwary or unwise."
Book Details:
Authors: James Brown, Paul Butler, Walt Ciechanowski, Steve Emmott, Gareth Ryder-Hanrahan, Jon Hodgson, Shane Ivey, Andrew Kenrick, TS Luikart, Dominic McDowall, Francesco Nepitello, James Spahn, and Ken Spencer
Publishers' Reference: CB72300
ISBN: 978-0-85744-303-8
Hardback, 224 pages
Date: August 2016
Buy this product:
Product page last updated: 25 November 2016