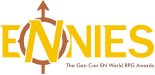 Here are the entries for the 2017 ENnies Awards.
AAW Games
Adventureaweek.com
Aventyr Campaign Setting Map
Into the Wintery Gale: Wrath of the Jotunn
Winter's Roar: Vikmordere Bestiary
Ad Infinitum Adventures
Adventures in Filbar
FVS1: Zechariah's Dungeon
TW1: Wokshop of the Alchemist
GC16: Legend of Pula Noa
Agate Editions
Occultism
Hauntings
Rise
Cave Tiles
AKA Games
Alephtar Games
All Rolled Up
The Cthulhu Hack: The Haunter of the Dark
Neoprene Folding Dice Tray
Save Innsmouth: A Student Documentary
Alligator Alley Entertainment
Fall of the Eos Keldor: Esper Genesis Starter Adventure
Arcana Games
The Frost Papers
Blood and Bone
Blood and Bone: Campaign Setting
Arc Dream Publishing
Atlas Games
Unknown Armies Deluxe Set
Battlefield Press International
Ben Dunn's Ninja High School the Anime and Manga Role Playing Game
Sherwood: The Legend of Robin Hood
Bedrock Games
Wandering Heroes of Ogre Gate
Sects of the Martial World Series
Black Armada
Black & Green Games
Black Book Editions
Polaris RPG: Core Rulebooks 1 & 2
Polaris RPG: Equinox
Polaris RPG: Location Map Folio
Polaris RPG: Core Rulebooks 1 & 2 Deluxe Edition
Polaris RPG: Character File
Polaris RPG: Game Master Screen
Bleem Divertissements, Inc
Blogs
Age of Ravens
Blue Stocking's Organic Gaming
Cross Planes
Cylcopedia
DMDavid Blog
Elven Tower, RPG Articles & Cartogrphay Website
Gnome Stew: The Gaming Blog
Inspiration Strikes!
The Iron Pact: Adventures in the World of Symbaroum
Keep On The Heathlands
Loot the Room
Melvin Smif's Geekery
Mike Myler's Gaming Blog
Terminally Nerdy
ThatBoomerKid: Another Spot for Clinton J. Boomer
Thoughty
World Builder Blog
Zardoz the Magnificent's Dungeons and/or Dragons Super Show!
Brabblemark Press
MASHED: A Korean War MASH RPG
Broken Ruler Games
High Plains Samurai: The Rehearsal Edition
Screenplay
Burning Games
Faith: A Garden in Hell Starter Set
Campaign Coins
Chaosium
Runequest
Call of Cthulhu: The Coloring Book
Call of Cthulhu: Investigator Handbook
Call of Cthulhu: Keeper Rulebook
Call of Cthulhu: 7th Edition Slipcase Set
The Coming Storm
Doors to Darkness
Pulp Cthulhu
S. Petersen's Field Guide to Lovecraftian Horrors
Chris Constantin
The Saurials of the Lost Vale
Christopher West's Maps of Mastery
Deck Space IV: Dangerous Seas: Fighting Brig & Ocean Waves
Cone of Negative Energy
Do Not Let Us Die In The Dark Night Of This Cold Winter
Hex Kit
Hex Kit: Fantasyland
Cthulhu Reborn
Cubicle 7 Entertainment Ltd
Doctor Who Roleplaying Game Deluxe Dice Set
Adventures in Middle-Earth Player's Guide
Doctor Who: All The Strange, Strange Creatures, Vol. 1
The One Ring: Horse-Lords of Rohan
World War Cthulhu: Cold War
CypherCast Network
Darklight Interactive
Cavern of the Damned - 5th Edition
Cavern of the Damned - Pathfinder
Density Media
PreppiePunk: Coronation Edition
dicegeeks
DIY RPG Productions
Hubris: A World of Visceral Adventure
Dread Unicorn Games
Gods and Icons
Gods and Icons, Player's Companion
The Tower in the Mist
Dungeon Channel
Elderwood Academy
Encoded Designs
Rockerboys & Vending Machines
The Book of the Tarrasque
The Big Book of Conspiracies: 30 Treasonous Paranoia Plots
The Legacy Weapon: A Dungeon World Artifact and One Shot
Enigma Machinations
Encounter Table Publishing
Evil Hat
Bubblegumshoe
Do: Fate of the Flying Temple
Kaiju Incorporated Card Game
Kaiju Incorporated Roleplaying Game
Venture City
Young Centurions
Fantastic Reality
Asatania Crashing Chaos Complete Edition
Fat Dragon Games
DRAGONLOCK Ultimate: Dungeon Starter Set
DRAGONLOCK Ultimate: Village Building Set 1
First Ones Entertainment
Tyrants of Saggakar: Player's Guide
Four-in-Hand Games
Rockalpyse
Rockalpyse Accelerated
Steamscapes: Gearsmith's Guide
Free League Publishing
Tales from the Loop: Roleplaying in the '80s That Never Was
Coriolis: The Third Horizon
Frog God Games
The Lost Lands: Bard's Gate
Swords & Wizardry Light: Fast-Play Fantasy
Galileo Games
Bulldogs! Sci-Fi That Kicks Ass!
Heart of the Fury
Geeks Table
How to be a Great Gamemaster
Gamehole Publishing
The Brain Gorger's Appetite
Games & Gears
Gen Con Legends Miniature Series: Ranger
Dark Deeds
DLB Technical Brush Set
Gen Con Xtreme Detailed Brush Set
Gen Con Masters Work Brush Set
Gaming Paper
Mega Dungeon 4: Rooftops and Alleyways
Edgewater's Folly
Gaming Paper Isometric
GRAmel
Green Hat Designs
Green Ronin
Atlas of Earth-Prime
Blue Rose: The AGE RPG of Romantic Fantasy
Fantasy AGE Bestiary
Dragon's Hoard
Hero High
Dragon Age GM's Kit
Cinema + Sorcery
Cosmic Handbook
Growling Door Games
SAVE: The Eternal Society
Chill GM Screen
Hero Forge Games
Hero Kids: Fantasy Expansion: Monster Compendium
High Rock Press
Aaron Allston's Strike Force
Michael Sartan's Journey to the Center of the Earth
Hunter Books
The ABCs of RPGs
The ABCs of RPGs Activity Book
Imaginary Empire
In Search of Games
Inkwell Ideas
NPC Portraits Deck: Monsters
SideQuest Decks: Science Fiction
Janek Sielicki
The Bridges We Burn: A Numenera Adventure
Järnringen
Thistle Hold: Wrath of the Ward
Symbaroum: Advanced Player's Guide
Jeremy Forbing
Unearthed Archetypes: Heroes for the Ages
John Wick Presents
7th Sea 2e: Core Rulebook
7th Sea: Basic Rules
7th Sea: Heroes & Villains
7th Sea: Map of Théah
7th Sea: Pirate Nations
Jon Brazer Enterprises
Book of Heroic Races: Advanced Compendium
Just Insert Imagination
Badabing Badaboom!
Mutation Deck
Size Matters
Know Direction
Kobold Press
Tome of Beasts for 5th Edition
Kobold Guide to Plots & Campaigns
Prepared! A Dozen One-Shot Adventures for 5th Edition
Lamentations of the Flame Princess
Blood in the Chocolate
Broodmother Skyfortress
England Upturn'D
The Cursed Chateau
Slugs!
Lamentations of the Gingerbread Princess
The Pale Lady
The Squid, the Cabal and the Old Man
Dungeon of the Unknown
Veins of the Earth
Legendary Games
Hypercorps 2099
Legendary Monks (PFRPG)
Legendary Plant: Confederates of the Shattered Zone (5E)
Legendary Plant: Dead Vault Descent (Pathfinder)
Past Lives: Secrets of Reincarnation
Trail of the Apprentice
2099 Wasteland
Ultimate Factions (PFRPG)
Liberi Gothica Games
Lone Wolf Development
Magpie Games
The Cold Ruins of Lastlife
The Green Law of Varkith
Masks: A New Generation
Epyllion: A Dragon Epic
Fate Codex Anthology Year 2
MakerOfGames
Triniton Roleplaying Game
Make Big Things
Make Big Things 2-Player RPG List
Noirlandia
Noirlandia Mystery Quickstarts
Maximum Mayhem Dungeons
Maximum Mayhem Dungeons #3: Villains of the Undercity
Metal Weave Games
Baby Bestiary, Volume 2
Baby Bestiary, Collector's Edition
Midnight Syndicate
Zombies!!! Official Board Game Soundtrack
Modiphius Entertainment
Achtung! Cthulhu Skirmish: Commander's Set
Achtung! Cthulhu Skirmish: Black Sun Troopers Unit Pack
Achtung! Cthulhu Skirmish: Servitors of Nyarlathotep
Mutant Chronicles: Dark Eden Campaign
Mutant Chronicles: Dark Eden Sourcebook
Mutant Chronicles: Whitestar Sourcebook
Mutant Chronicles: Dark Eden Source Book
MINDJAMMER - TRAVELLER EDITION (Mindjammer Press)
BLUE - ADVENTURE IN THE RUINS OF AN ALIEN WORLD (Mindjammer Press)
Modiphia Magazine
Moebius Adventures
Monkeyfun Studios
Spirit of 77 - A Very Special Episode: Masterpiece 77
Monte Cook Games
After the Nightfall
Expanded Worlds
Gods of the Fall
Gods of the Fall: Breath of God
Exploring Numenera: Strand
Into the Outside
Numenera Asset Deck
Numenera Artifact Deck
Numenera Character Options 2
Numenera Character Portfolio
Numenera Starter Set
NPC Deck
The Octopi of the Ninth World
The Poison Eater
Skein of the Blackbone Bride
Story, Please!
Tales Beyond the Ninth World
The Thief, the Clave, and the Ultimatum
Torment: Tides of Numenera - The Explorer's Guide
Mystical Throne Entertainment
Beyond the Firelight
Little Heroes
Norse Foundry, LLC
Northland Creative Wonders
Nothing Ventured Games
Odine Publishing
Whispers of the Dark Daeva
Olde House Rules
Blood of Pangea: Opherian Scrolls
The Maze of Memory
The Serpentine Egg
Okumarts Games
Team Canada: A Save the Day Adventure
Gramma World: A Post-Retirement Adventure Game
The Kingdom of Richard
Orcs Unlimited
Space Pirates the Musical
Order of the Amber Die
Briarstone Asylum Map Procedures
The Orr Group, LLC
Paizo Publishing
Pathfinder Adventure Card Game: Mummy's Mask Base Set
Pathfinder Adventure Path: Curse of the Crimson Throne
Pathfinder Adventure Path: Ironfang Invasion Player's Guide
Pathfinder Campaign Setting: Path of the Hellknight
Pathfinder Campaign Setting: Qadira, Jewel of the East
Pathfinder Module: We B4 Goblins
Pathfinder Pawns: Villain Codex Box
Pathfinder Roleplaying Game: Bestiary 6
Pathfinder Roleplaying Game: Horror Adventures
Pathfinder Society Scenario #8-07: From the Tome of Righteous Repose
Pelgrane Press
Edom Field Manual
The Thrill of Dracula
Seven Wonders
Dracula Deck
The Book of Changing Years
Timewatch
Timewatch: Behind Enemy Times
13th Age Monthly, Volume 2
13th Age Organized Play: Return to Screamhaunt Castle
The Edom Files
Free RPG Day flipbook - Swords Against the Dead and The Van Helsing Letter
Looking Glass: Hong Kong
Fear Itself
Worldbreaker
See Page XX
High Magic & Low Cunning
High Magic & Low Cunning: Battle Scenes for Five Icons Map Folio
The Crown Commands: Battle Scenes for Four Icons
The Crown Commands: Battle Scenes for Four Icons Map Folio
Pinnacle Entertainment Group
Deadlands:The Cackler
Deadland's City o'Gloom! Blood, Sweat and Gears Soundtrack
Deadlands Conversion Guide
Deadlands Good Intentions Player's Guide
Deadlands Paradise Lost Adventure
Last Parsec: Unexpected Colony
Rifts: The Tomorrow Legion Player's Guide
Rifts: Game Master Handbook
Rifts: Archetypes Set 1
Rifts: Archetypes Set 2
Rifts: A Fine solution: Set of 5 One Sheet Adventures
Rifts: North America + Castle Refuge Poster Map
Rifts: Savaging Your Favorite Rifts Ideas
Rifts: Savage Foes of North America
Rifts: Tome of Destiny Adventure
Rifts: for Savage Worlds Powers and Mega Powers List
Rippers Map 3: The World of the Rippers!
Rippers Resurrected Game Master's Handbook
Rippers Resurrected Player's Guide
Rippers Resurrected: Frightful Expeditions
Plate Mail Games
Rothaen Audio Collection: Rinfaust Forest
Pro RPG Audio: Cthulhu's Call
Pro RPG Audio: Apocalypse Convoy
Playground Adventures
Creature Components Vol 1
Fun & Facts: For the Hive
The playsets team
Podcasts
Advantage to Insight
The Good Friends of Jackson Elias
BACKSTORY
Caverns and Comedians
The CypherCast
Cypher Speak
The Dead Games Society Podcast
Dice for Brains
Dragon Talk
Dungeons & Doritos: Barty Hard
Dungeon Master's Block
The Fandible Actual Play Podcast
Game Master's Journey
The Gauntlet Podcast
Geek Wars
Ghostbusters: Resurrection - Season 3
Glowburn
GM Showcase
GM Word of the Week
Gnomecast
Godsfall: Divine & Conquer
The Glass Cannon
Have Spellbook, Will Travel
Hobbs & Friends of the OSR
Ken and Robin Talk About Stuff
Know Direction Podcast
Leveling Up
The Misdirected Mark Podcast
Modifier Podcast
ONE SHOT Podcast
Ottawa Game Publishers Podcast
Panda's Talking Games
Party Of One
Pocket Mimic
Pod of Many Casts
Plot Point Podcast
+1 Forward - A Podcast Powered by the Apocalypse
Radio Free Borderlands
Redemption
Roll20 Presents: Apocalypse World, Series 2
The Rolistes Podcast
The RPG Academy
Sanctum Secorum
She's A Super Geek
Sneak Attack!
Spellburn Podcast
The Streets of Avalon
System Mastery Podcast
Table Top Babble
Talking TableTop
Total Party Thrill
Troublesome Times in Tumbleson County
We're So Bad At Adventuring
Porcupine Publishing
Posthumans Studios
Eclipse Phase: Argonauts: Science for the Greater Good
Eclipse Phase: X-Risks
Eclipse Phase: Transhumanity's Fate
Eclipse Phase: After the Fall - The Anthology of Transhuman Survival & Horror
RedPathGames Pty Ltd
Grimoire - Tales of Wizardry and Intrigue
Rising Phoenix Games
Claustrophobia!
Phoenixes - A Field Guide
Samjoko Publishing
The Veil: Cyperpunk Roleplaying Powered by the Apocalypse
Sanctum Media
Sanctum Secorum Companion Zine #23 - DCC Lankhmar
Satyr Press
Savage Mojo
Shades of Vengeance
Era: Survival - Core Rulebook
Era: Survival - Pocket Edition
Sixpence Games
Solarhythmia
Solarhythmia's Fantasy Ambient Music
Son of Oak Game Studio
City of Mist - Free PDF Starter Set
City of Mist - Printed Starter Set
Starguild RPG
Starguild: Space Opera Noir
Storm Bunny Studios
Mists of Akuma: Eastern Fantasy Noir Steampunk for 5th Edition OGL
The Rhune: Dawn of Twilight Campaign Guide
The Rune of Hope
Stormforge Productions
The Ruined City - A Runed Campaign
The Ruined People - A Runed Campaign
The Sigil System
Stygian Fox Publishing
Colonial Times 7
The Things We Leave Behind
Sword's Edge Publishing
Syrinscape
Syrinscape Fantasy Player
Tabletop Audio
Tabletop Events
TAGames
D6 Football, A Desktop Simulation of American Football
Third Eye Games
AMP: Year 3
Ninja Crusade 2e
Ninja Crusade 2e Quickstart
Sins of the Father
Thunderegg Productions
Kaigaku RPG, Free Version
Tribality
2CGaming
Epic Legacy Player's Guide
The Total Party Kill Handbook
Trap Compendium
Ulisses North America
The Dark Eye Core Rules
Arivor's Doom
Aventuria Almanac
Aventuria Bestiary
The White Lake: Theater Knights I
Starless Sky: Short Story Anthology for The Dark Eye
Up to Four Players
Up to Four Players: Crystal Heart
Vorpal Chainsword Games
Ravingspire: Assault on the Tower of Madness
Vorpal Games
RED AEGIS Roleplaying Game
Wearing the Cape Productions
Wearing the Cape: The Roleplaying Game
White Wizard Games
Wizards of the Coast
Dragon+
Storm King's Thunder
Volo's Guide to Monsters
Tales from the Yawning Portal
WizKids
D&D Icons of the Realms: Adventurers' Campsite Premium Set
D&D Icons of the Realms: Storm King's Thunder
Dungeons & Dragons: Molzur's Marvelous Miniatures
Pathfinder Battles: Deadly Foes
Pathfinder Battles: Deep Cuts Unpainted Miniatures
0one Games
The Great City - The Elder Wards
Threads of the Orb Weaver
0one's Blueprints - Singles: The Ruined Tower
0one's Blueprints: Megadungeons - Palace of the Vampire Queen
Ziapelta Games
ENnies Entries last updated: 14 June 2017