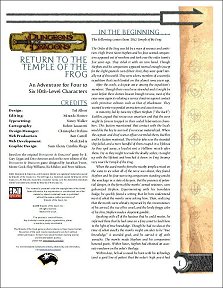 An adventure for 10th-level characters.
Publisher's blurb: "The Order of the Frog was led by a man of resource and ambition. High Priest Saint Stephen and four companions appeared out of nowhere and took over the order twenty five years ago. Though Stephen and his companions seemed normal enough (except for the slight greenish cast of their skin), they were quite literally not of this world. They were aliens, members of a scientific expedition that crash landed on this planet some years ago.
"Temple of the Frog was first published in the 1975 D&D Supplement II: Blackmoor. It was later republished in 1986 as module DA2: Temple of the Frog. In the original adventure, the PCs were hired to find a missing person (Rissa Aleford, Baroness of the Lakes) and investigate a strange cult based on the worship of frogs.
"Return to the Temple of the Frog picks up the adventure decades later. During an adventuring party's assault on the temple over twenty years ago, Saint Stephen escaped the conflict and hid in the swamp until the adventurers departed. Having completed their raid, rescued the prisoner they had come for, and hurriedly looted the temple, the heroes left the area and never looked back.
"Saint Stephen entered the temple hoping to salvage anything that he could. The Order of the Frog was done for, all his fellow aliens were slain, and his frog cultists had fled or were put to the sword. He only wanted enough to allow him to flee the swamp and find a new hiding place.
"He found more than he had counted on...."
Book Details:
Author: Edward Albert
Publishers' Reference: Unknown
ISBN: n/a
PDF, 36 pages
Date: February 2007
Product page last updated: 10 July 2016