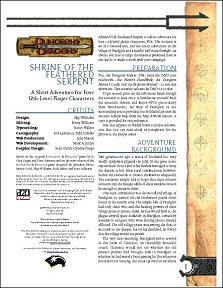 An adventure for 12th-level characters.
Publisher's blurb: "Two generations ago, a series of localized but very deadly epidemics plagued the land. In the great cities, experienced clerics and other healers managed to keep the disease at bay. Most rural communities, however, lacked the resources to protect themselves adequately. The residents simply had to hope that their relative isolation and the meager skills of their residents would be enough to preserve them.
"One such community was the woodland village of Pearlglen, so named for the freshwater pearls often found in the nearby river. The simple folk of Pearlglen had only their wits and the healing powers of their village priest to protect them. As fate would have it, the plague arrived quite suddenly in Pearlglen, carried by streams of refugees who were fleeing places already afflicted. The old village priest was among the first to succumb to the disease, but on his deathbed, he vowed that his village would not perish.
"The very next morning, Pearlglen's savior arrived in the form of Tlanextic, an incredibly beautiful couatl. Tlanextic would not say whether the old priest's prayers had brought him to Pearlglen or whether he had merely been passing by. But whatever his reason for visiting, the couatl proved an excellent public health officer, and he quickly arranged to treat the afflicted who could be saved and to ease the passing of the doomed. He also made sure that the plague victims were properly buried to stem the spread of the disease. In less than a fortnight, Tlanextic's efforts had blunted the worst effects of the plague, and Pearlglen was disease-free within a month. When he was certain that the danger had passed, Tlanextic took his leave, promising to look in on the village from time to time.
"In gratitude, the people of Pearlglen crafted a handsome statue of their savior using hardwood from the forest and pearls from the river. The statue stood in a place of honor in the village shrine, not far from the old priest's tomb. Over the years, Pearlglen became famous as the home of an astonishing couatl statue, and curious onlookers began to visit. Eventually, the church of Pelor expanded the shine and placed a fairly senior cleric there to keep an eye on the relic. In like manner, the village established the Wardens - a sort of local militia - to protect its citizens.
"All has been calm in Pearlglen since, and the humans of the village have resumed their peaceful existence. But what is the nameless dread that now stalks the woods, causing fey and other woodland beings to give Pearlglen a wide berth? And what threat has brought Tlanextic back again?"
Book Details:
Author: Skip Williams
Publishers' Reference: Unknown
ISBN: n/a
PDF, 12 pages
Date: December 2004
Buy this product:
Product page last updated: 4 July 2016