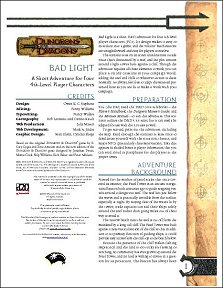 An adventure for 4th-level characters.
Publisher's blurb: "Named for the mother-of-pearl scales that once covered its exterior, the Pearl Tower is an ancient navigational beacon built centuries ago to guide seagoing vessels around a dangerous reef. The reef lies just below the waves and is practically invisible from the surface, especially at night. By staying clear of the waters lit by the tower, trade captains can sail their ships safely around the reef rather than going miles out of their way to avoid it.
"The narrow beach near the reef is cut off from the mainland by a long, tall cliff. The Pearl Tower was built against a near-vertical section of the cliff so that in addition to its primary function of guiding ships, it could provide easy access from the cliff top to the beach below.
"Because the presence of the cliff makes fishing impractical and the land is too rocky for farming or ranching, no community has ever grown up around the Pearl Tower, and no lord is willing to invest in a garrison for its protection. The beacon has always been maintained by poor commoners who receive a small stipend from various merchants' guilds for their service. Since the Pearl Tower has never contained anything of value and no one has ever lived in it, brigands have never bothered it.
"Recently, however, ships have begun to disappear from the trading lanes, and the tower is suspect. Why has its light become unreliable? Is some evil creature living there and preying on the shipping trade?"
Book Details:
Author: Owen K. C. Stephens
Publishers' Reference: Unknown
ISBN: n/a
PDF, 8 pages
Date: July 2004
Buy this product:
Product page last updated: 25 June 2016