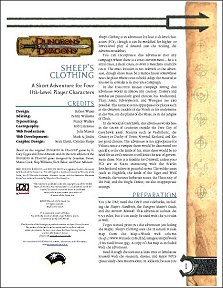 An adventure for 11th-level characters.
Publisher's blurb: "The court of a ruler attracts intrigue the same way it attracts peasants looking for justice. Courtiers vie for position and favor with the ruler, and enemies plot to overthrow him and install themselves - or at least someone more friendly to their own interests - in his place. A veneer of civility covers this chesslike game, masking its harsh purpose and sometimes deadly import. Indeed, a modicum of pleasantry is essential, since rapidly shifting loyalties can turn enemies into allies and allies into enemies in the span of an hour. Open hostility could easily destroy any possibility of future alliances with today's enemies, so it is always better to hedge one's bets.
"It is said that the real rulers of a nation rule from behind the throne. While this assertion may not be true in all cases, it is certain that when a ruler is not strong-willed, some crafty advisor almost always makes the real decisions. Such a courtier has infiltrated the court of King Ceral, and he has begun taking steps to ensure that he and he alone holds the true power."
Book Details:
Author: Robert Wiese
Publishers' Reference: Unknown
ISBN: n/a
PDF, 19 pages
Date: October 2003
Buy this product:
Product page last updated: 15 June 2016