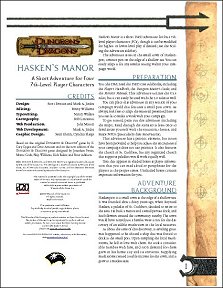 An adventure for 7th-level characters.
Publisher's blurb: "Haskenport is a small town at the edge of a shallow sea. It was founded about thirty years ago, when Reynard Hasken, a paladin of St. Cuthbert, decided to retire to the area. He built a manor and a small private dock, and his followers created the community nearby.
"Some ten years ago, Reynard Hasken died of natural causes. He willed his manor house to the church of St. Cuthbert, but the priestess and her underlings cannot pay the high cost of its upkeep, and they have been unable to sell it thus far. Though they have removed some of the items of value from the house for safekeeping, they have made no attempt at the upkeep that the manor requires. Thus, it has slowly fallen into disrepair.
"A few weeks ago, a roving band of hobgoblins arrived at the manor house and took up residence there. Since then, they have been using it as a base of operations, though no one is quite sure what those operations are. Whatever their plans, however, their presence can't be a good thing. So the mayor of Haskenport and Ana, priestess of St. Cuthbert, have decided to seek help in ousting the evil humanoids."
Book Details:
Authors: Scott Brocius and Mark Jindra
Publishers' Reference: Unknown
ISBN: n/a
PDF, 14 pages
Date: September 2003
Buy this product:
Product page last updated: 7 June 2016