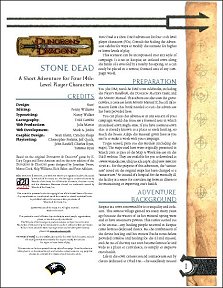 An adventure for 14th-level characters.
Publisher's blurb: "Petrification is one of the worst possible fates in a fantasy game. As a statue, you're not truly dead, but you're certainly not alive. You're held in stasis for as long as it takes for someone to find you and return you to your normal state. This power is certainly what makes otherwise standard monsters such as the basilisk and cockatrice so feared. How much more frightening is it, then, when the source of this effect cannot be seen?
"The remote village of Respite gained notoriety many years ago because the waters of its hot mineral spring were said to have restorative powers. But within the past few weeks, a terrible tragedy has befallen the famous resort town. People have been growing ill and then turning to stone! The clerics suspected some sort of plague but were unable to find the cause. Those townsfolk who were wise packed up and fled Respite before it was too late. The rest turned to stone.
"Now the town of Respite is a silent place populated only by stone images. Statues of the townsfolk stand here and there all over town, and strange gargoyle statues now decorate the town's gate and the sanatorium. Can the PCs find out what has happened to Respite before the plague spreads further?"
Book Details:
Author: Stan!
Publishers' Reference: Unknown
ISBN: n/a
PDF, 15 pages
Date: May 2003
Buy this product:
Product page last updated: 16 July 2016