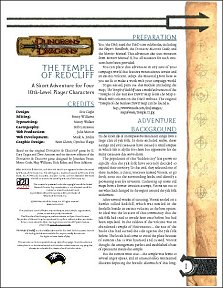 An adventure for 10th-level characters.
Publisher's blurb: "Many long years ago, the town of Redcliff was besieged by an invading army of humanoids - elves, dwarves, and humans. The townsfolk sought refuge in the mountains while the priests and other defenders at the Temple of Heironeous battled the besieging army. The invaders were repulsed, but the temple was never the same again. Declaring it cursed by the god himself, the priests abandoned it with all its contents.
"Since then, the townsfolk have given the place a wide berth, believing it to be haunted as well as cursed. But for the past few months, there have been signs of supernatural activity there - noises and colored lights at night.
"Worse still, the mayor of Redcliff, a crusty old warrior named Andalor, disappeared last night after acting strangely for several days. Witnesses say they saw him heading for the temple in the middle of the night. As a former priest of that temple, he was bound to honor its closure. Why would he go there now, alone at night? Surely there is trouble afoot, and the temple is at the heart of it."
Book Details:
Author: Eric Cagle
Publishers' Reference: Unknown
ISBN: n/a
PDF, 10 pages
Date: March 2003
Buy this product:
Product page last updated: 30 May 2016