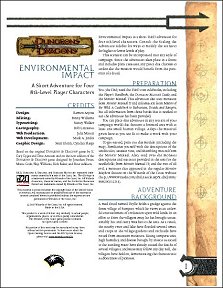 Bring eco-terrorism to your D&D game with this 8th-level adventure.
Publisher's blurb: "A mad druid named Drylle holds a grudge against the forest village of Sumpter, which he views as an unlawful encroachment of civilization upon wild lands. In an effort to drive the villagers away, he has brought unseasonably hot and rainy weather to the area. As a result, the nearby river and lake have flooded several times, and crops in the village gardens and orchards have rotted from excessive moisture. Rising temperatures, high humidity, and disease brought by insects attracted to the standing water have already caused the deaths of several villagers, and more may follow any day. Still, the villagers have held on, demonstrating the characteristic stubbornness of pioneers.
"Frustrated by his lack of success and determined to put a stop to humankind's constant expansion, Drylle has spent the past few weeks traveling far and wide, collecting a veritable army of hostile plant creatures to bring back to his forest. Some he has brought through coercion; others have joined him willingly, lured by the promise of rich feeding grounds. With these 'troops', he plans to lay siege to Sumpter, preventing the villagers from going into the forest for food. Once starvation and disease have weakened them enough to prevent effective resistance, he will send in his troops to finish them off. Only the PCs can save the village now."
Book Details:
Author: Ramon Arjona
Publishers' Reference: Unknown
ISBN: n/a
PDF, 8 pages
Date: April 2003
Buy this product:
Product page last updated: 29 May 2016