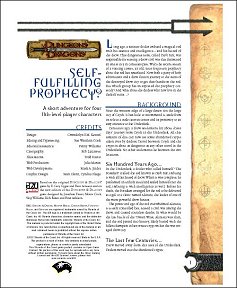 An adventure for 11th-level characters.
Publisher's blurb: "Designer Gwendolyn F.M. Kestrel brings you into the Underdark in search of a powerful rod mentioned in a prophecy. Will the rod bring benefit or bane? Find out when you drop this free online adventure into your campaign - and send your PCs into the middle of a power struggle among drow, driders, and other NPCs.
"Long ago, a sinister drider imbued a magical rod with his essence and intelligence - and his hatred of the drow. This dangerous item, called Dark Fate, was responsible for starting a drow civil war that decimated an entire city in centuries past. With the recent return of a visiting comet, an old, near-forgotten prophecy about the rod has resurfaced. Now both a party of holy adventurers and a drow faction journey to the ruins of the destroyed dark elf city to get their hands on the rod. But which group has interpreted the prophecy correctly? And what about the driders who now live in the dark elf ruins?"
Book Details:
Author: Gwendolyn F.M. Kestrel
Publishers' Reference: Unknown
ISBN: n/a
PDF, 13 pages
Date: 2002
Product page last updated: 21 May 2016