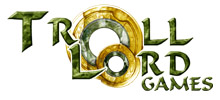 Troll Lord Games produce a range of material to support d20 Dungeons and Dragons, and had enlisted one of the original authors of D&D, Gary Gygax, to write for them. They also publish the latest incarnation of Gary Gygax's last game, Lejendary Adventures, and a fun, fast fantasy RPG called Castles and Crusades.
Gygaxian Fantasy Worlds
Lejendary Adventures
The Crusader Magazine
5th Edition Roleplay - adventures and other resources for Dungeons & Dragons 5e
Visit their website.
Company Section last updated: 10 February 2020