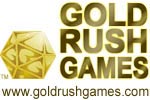 Gold Rush Games has been around since 1992, beginning with a newsletter called The Gamer's Connection and following with a range of licensed products including a soundtrack CD for Cyberpunk. Their intention is to produce good-quality (both appearance and content) materials that are innovative and even surprising.
Their 'house' system is the Action! System, and they have taken an OGL approach, making the core rules available for anyone who wishes to make use of them. Several of their own games use this system, although they also provide D20 statistics for many individual products.
Visit their website.