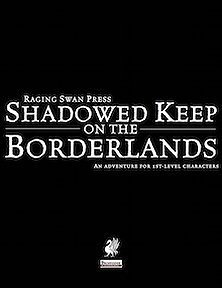 Intended as a campaign starter for 1st-level characters, it's almost a mini-campaign in itself!
Publisher's blurb: "A ruined monument to folly and ego, the Shadowed Keep stands atop an isolated bluff deep in a mist-wreathed forest. Sacked by marauding goblins decades ago the place was thought abandoned, but shadows now creep among the forest's great boles and footprints have appeared on the single, overgrown track leading to the keep. Travellers have begun to disappear with alarming regularity from the nearby road and the local folk fear some slumbering evil has claimed the ruin as its own.
"Dare you brave the terrors of the Shadowed Keep to crush that which lurks within or will darkness shroud the surrounding lands?
"Designed to be easily inserted into a GM's home campaign, Shadowed Keep on the Borderlands is an excellent starting locale to test the mettle of neophyte adventurers.
"Shadowed Keep on the Borderlands is designed for the medium advancement track. 1st-level PCs completing all the challenges of the place can expect to reach 3rd-level by the time they have exhausted all the keep has to offer."
Book Details:
Author: Creighton Broadhurst
Publishers' Reference: Unknown
ISBN: 978-0-95648-263-1
Paperback, 97 pages
Date: March 2012
Buy this product:
Product page last updated: 29 November 2017