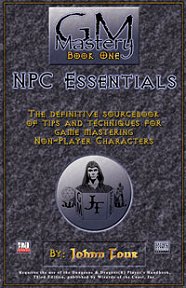 Players only have their character to worry about, the GM has to look after everybody else. This book is full of ways to make all those NPCs take on a life of their own, and so breathe life into your adventures.
Publisher's blurb: "NPC Essentials is a collection of tips, techniques, and aids designed to help game masters inject detailed NPCs into any role-playing campaign. Inside readers will find advice on designing, role-playing, and managing NPCs during the entire lifetime of their campaigns. Also included are NPC archtypes, encounters, charts, and an example NPC centric adventure."
More when I get hold of a copy!
Click HERE to buy this from RPG Now.
If you want a 'dead tree' version, click HERE to buy it from RPG Mall,
or click HERE if you want to buy this book from Amazon.com or HERE if you prefer to use Amazon UK.
Book Details:
Author: Johnn Four
Publishers' Reference: RPO2001
ISBN: 0-9724826-3-6
Paperback, 192 pages
Date: February 2003