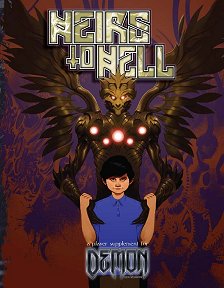 What happens when a Demon has children?
Publisher's blurb: "When an angel Falls, she defects to the human race, and takes on everything that comes with that choice. All of the joy and heartbreak of humanity are hers, and that includes family.
"Heirs to Hell discusses the children of the Unchained, and presents system and setting information for including these demon-blooded in your chronicles. Some demon-blooded are completely unaware of their heritage, and some are very much inheritors of their demonic parents' power. But the God-Machine has plans for all of them."
More when I get hold of a copy!
Book Details:
Authors: Matthew McFarland, Filamena Young, and Eric Zawadzki
Publishers' Reference: Unknown
ISBN: Unknown
Paperback, 50 pages
Date: July 2014
Buy this product:
DriveThruRPG (PDF download or print-on-demand book)
RPG Now (PDF download or print-on-demand book)
Product page last updated: 16 January 2016