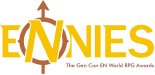 These are the entries for this year's awards.
AAW Games
Adventureaweek.com
Aventyr Besitary
NERD TREK
Shattered Heart Adventure Path #1: The Ties that Bind
Shattered Heart Adventure Path #2: The Temple of Jewels and Mirrors
Shattered Heart Adventure Path #3: The Breath of the Goddess
Shattered Heart Adventure Path #4: Crucible of Faith
Snow White
Tales from the Tabletop
Adventure Scents
Adventures in Filbar
FD5: Venture into Sordack Valley
FP14: Dominion of Sophicles the Virulent
FVS5: Penchant for Adventure 4
FVC6: Inquiry into the Wildlands
Agate Editions
Shadows of Esteren: Black Moon Handbook
Shadows of Esteren: Cartography of Tri-Kazel
All Rolled Up
All Rolled Up: Dracula Dossier: The Black Archive
Arc Dream Publishing
Better Angels: No Soul Left Behind
Delta Green: Agent's Handbook
Delta Green: Need to Know
Are You Not Entertainment
It Figures: Episode I - The Parental Menace
As If Productions
DayTrippers Golden Age Adventures
Atlas Games
Feng Shui 2 GM Screen
Mook Generator for Feng Shui 2
Sylvan Master iOS app for Feng Shui 2
Barrel Rider Games
White Star: White Box Science Fiction Roleplaying
Burning Games Limited
FAITH: the Sci-Fi RPG Core Set
FAITH: the Sci-Fi RPG pdf rulebook
FAITH: the Sci-Fi RPG Introductory Adventure
Campaign Coins
Campaign Mastery
Catalyst Game Labs
Shadowrun: Bloody Business
Shadowrun Missions: Ten Fifty-Seven
Shadowrun: Rigger 5.0
Shadowrun: Serrated Edge
Shadowrun: Shadows in Focus: City by Shadow: San Francisco Metro
Shadowrun: World of Shadows
Valiant Universe RPG: Rumble in the Bay
Cavalry Games
Cyclopean Games
Blood & Bronze
Thralls of the Sun
Cubicle 7
Cthulhu Britannica London
Dalek Dice
Doctor Who: The Eleventh Doctor Sourcebook
Lone Wolf Adventure Game
The One Ring: Ruins of the North
Cumberland Games & Diversions
Cybercast Network
CypherCaster Magazine (Bundle, Issues 001-004)
d20 Radio
d20 Radio's Gamer Nation Blog
Damocles Thread Development
Sam and Fuzzy: The Underground
Dark Naga Adventures
The Lost Temple of Forgotten Evil
Dread Unicorn Games, LLC
The Sun Below: Sleeping Lady
Ed the Bard
Elder Gods Publishing
Thunder Classic Role Playing
Embers Design Studios, LLC
End Transmission Games LLC
The DicePunk System SRD
Epic Space Battles
Psionics: The Next Stage in Human Evolution
Engine Publishing
Yore
Focal Point: The Complete Game Master's Guide to Running Extraordinary Sessions
Evil Hat Productions
Don't Turn Your Back
The Pharaoh of Hong Kong
War of Ashes: Fate of Agaptus
The Dresden Files RPG Vol. 3: The Paranet Papers
Fate Dice: Frost
It's Not My Fault
Exile Game Studios
Flatland Games
ACTION MOVIE WORLD: First Blood
Four-in-Hand Games
Four Dollar Dungeons
The Reign of Terror
Seven Sinful Tales
Galileo Games
Warrior Princesses Realms of Everafter
Games and Gears
Gen Con Brush Set
Lester Bursley Technical Brush Set
WGC Hydra Brush Set
Gaming Paper
Directive Infinity X
Gaming Paper Mega Dungeon 3: Sewers
Genesis of Legend Publishing
Atlas of Sig: The City Between
The Enlightened Man
Sig: The City Between
Genres Game System LLC
TOONZY! the Cartoon Role Playing Game
Gnome Stew
Gnome Stew: The Gaming Blog
Green Ronin Publishing
Dragon Age Core Rulebook
Fantasy AGE
Titansgrave: The Ashes of Valkana
Growling Door Games, Inc.
Chill Quickstart: Good Fences Make Good Neighbors
Chill Third Edition
High Rock Press
Larger Than Life: Savage Worlds Edition
House Rule Gaming, LLC
The Illuminerdy
Imaginary Empire
Inkwell Ideas
DungeonMorph Cards: Cities, Ruins, Villages
DungeonMorph Dice: Cities
Encounter Decks 3
Inkworks Productions
Unwritten: Adventures in the Ages of MYST and Beyond
Introcase LLC
Kabuki Kaiser
Kobold Press
Advanced Races Compendium
More Whispering Homunculus
Southlands Campaign Setting
Southlands Campaign Setting Map
Kotodama Heavy Industries
Ryuutama: Natural Fantasy Roleplay
Labyrinth Adventures
Lamentations of the Flame Princess
Towers Two
World of the Lost
Legendary Games
Beasts of Legend: Coldwood Codex
Beasts of Legend: Construct Codex
Killer Clowns from Hell
Legendary Beginnings: Into the Feyweald
Legendary Planet: Planetary Heroes
Legendary Planet: To Worlds Unknown
Legendary Rogues
Path of the Reluctant Hero
Starfall
Trail of the Apprentice: The Bandit's Cave
Trail of the Apprentice: The King's Curse
Ultimate Commander
Lesser Gnome
Death & Taxes Collector's Set
Lone Wolf Development
Hero Lab for the D&D 5th Edition SRD on Windows, Mac and iPad
Lowell Francis
Magpie Games
The Fate Codex Volume 2, Issue 2
The Last Days of Anglekite
Urban Shadows
Mechanical Muse
Melvin Smif's Geekery
Mesa Mundi Inc
Metal Weave Games
Baby Bestiary Handbook Volume 1
Non-Player Cards: An Artful and Inspirational NPC Generator
Scavengers RPG
Modiphius Entertainment
Achthung! Cthulhu: Elder Godlike
Achthung! Cthulhu: Shadows of Atlantis Campaign
Dust Adventures Roleplaying Game
Fragged Empire Roleplaying Game
Mindjammer: Hearts & Minds Adventure
Mutant Chronicles 3rd Edition Roleplaying Game
Mutant: Year Zero: Zone Compendium 2: Dead Blue Sea
Symbaroum Roleplaying Game
Monte Cook Games
Cypher System: Extreme Cyphers
Cypher System Rulebook
Encylcopedia of Impossible Things
No Thank You, Evil!
Numenera Boxed Set Edition: Reliquary
Numenera: Into the Night
Numenera Intrusion Deck
Mutha Oith Creations
Low Life: The Rise of the Lowly - Redredged from the Muck by Andy Hopp
Mystical Throne Entertainment
Entropic Guides: Warfare
ScreenPlay: The Rehearsal Edition
Mythopoeia Games Publication
Realm Of Fantasy SI: Wizards & Warriors
Realm Of Fantasy SII: Monsters & Magic
North Wind Adventures
HYPERBOREA: Beneath the Comet
HYPERBOREA: Forgotten Fane of the Coiled Goddess
HYPERBOREA: Ghost Ship of the Desert Dunes
Nothing Ventured Games
Obsidian Entertainment
ODAM Publishing LLC
Olde House Rules
Barons of Braunstein
Blood of Pangea
Blood of Pangea: Retrospace
The Vines of Atarak
The Orr Group, LLC
Osprey Publishing
Frostgrave: Fantasy Wargames in the Frozen City
Frostgrave: Thaw of the Lich Lord
Other Selves
The Other Side Publishing
The Other Side Blog
Sisters of the Aquarian Order
Paizo Fans United
Wayfinder #13: Ustalav, The Immortal Principality
Paizo, Inc
Pathfinder Adventure Card Game: Wrath of the Righteous
Pathfinder Adventure Path: Hell's Rebels Player's Guide
Pathfinder Adventure Path #100: A Song of Silver
Pathfinder Battles: The Rusty Dragon Inn: Bar Case Incentive
Pathfinder Campaign Setting: Distant Shores
Pathfinder Campaign Setting: Inner Sea Faiths
Pathfinder Flip Mat: Bigger Tavern
Pathfinder Module: We Be Goblins Free
Pathfinder Pawns: Summon Monster Pawn Collection
Pathfinder RPG: Bestiary 5
Pathfinder RPG: Occult Adventures
Pathfinder RPG: Ultimate Intrigue
Pathfinder Society Scenario #7-05: School of Spirits
Pelgrane Press
13th Age GM's Screen and Resource Book
13th Age Monthly
Accretion Disk: The Ashen Stars Expansion Book
Cthulhu Apocalypse
The Dracula Dossier: Director's Handbook
The Dracula Dossier: Dracula Unredacted
The Dracula Dossier: Hawkins Papers
The Forgotten Monk
Ken Writes About Stuff Volume 3
Race to Starport
See Page XX: The Pelgrane Press Webzine
The Strangling Sea
Trail of Cthulhu: The Long Con
Pinnacle Entertainment Group
Deadlands:... Is that You? One Sheet Adventure
Deadlands: Stone and a Hard Place
Lankhmar: City of Thieves
Optional Rules for Savage Worlds: Quick Combat Guide
The Sixth Gun GM Screen & The Winding Way Adventure
The Sixth Gun RPG
Playground Adventures
Glavost: A Fairy Tale Village
Pixies on Parade
Playground Adventures Website
Podcasts
The Adventuring Party Podcast
Call of Cthulhu: The Ride Home
Call of Cthulhu: A Vacation to Remember
Cube of Death PodCast
The D&R Podcast
Down with D&D
Dungeon Master Block Ep 72: The Epilogue
Fantasy Grounds 5E Podcast
Field Trip to a Tearable 80's Action Flick
Game Master's Journey - Your Multidimensional RPG Podcast
Game School PodCast
The GM Briefing RPG Podcast
Going Last - Tabletop Gaming Podcast
Grim Dark Podcast
Ken and Robin Talk About Stuff
Lady Blackbird Playthrough, Part 1 - Alas, Poor Snargle
The Misdirected Mark Podcast
The ONE SHOT Podcast
Openly Gamer Theatre
Party of One Podcast
The Path of Legends Podcast
Play on Target
Redemption - An Actual-Play Star Wars Podcast
Role Playing Public Radio
RPPR Actual Play
RuneQuest Episode 7: Our Gang and the case of the body parts
Sanctum Media
She's A Super Geek
Side Project Podcast
Talking TableTop
Table Topics
Tales from the Hydian Way
Thrilling Intent
The Tome Show's Round Table
Total Party Thrill: RPG Advice From Our Table to Yours
Virtual Play Podcast
We're So Bad At Adventuring
Posthuman Studios
Raging Owlbear
Reliquary Game Studios
Clockwork: Dominion Core Rulebook
Rogue Games, Inc.
Colonial Gothic: Lovecraft
Colonial Gothic: Adventure
Shadow, Sword & Spell: Embrace
RPG Resource
Sage Advice
Samjoko Publishing
Sanctum Media
Sanctum Secorum - Episode #04 Companion
Satyr Press
Scribeworx
Second Though Games
City of the Lich
WishTaker
Side Project Podcast
Six More Vodka
Degenesis: Rebirth Edition
In Thy Blood
Degensis: Storyteller Screen
theskyfullofdust
Sprouti Games
King of Slimes
Trials of the Magi
Starwarp Concepts
Terra Incognito: A Guide to Building the Worlds of Your Imagination
Storium
Storium, the online storytelling game
Stormforge Productions
The Runed Age Corebook
Journal of Array Design Volume 1
Studio187.com
Sword's Edge Publishing
Syrinscape
Syrinscape Dragonís Demand SoundPack
Syrinscape Fantasy Player
Tabletop Audio
Tabletop Audio - Ambient Audio and Music for Tabletop Games
That Boomer Kid
That Boomer Kid: Another Spot for Clinton J. Boomer
Three Sages Games
Gods of Wor: The Middle Kingdoms
Thunderegg Productions
Tribality
Tribality Blog - A Lich for Every Class: The Paths to Transcendence
Tribality Website - D&D 5th Edition Resources
Tribality Publishing - Gunfighter Class (5E)
Troy Taylor
M's Kit: On the Trail of Tyranny
Usherwood Publishing
The Door of Infinite Portals
Revolvers & Wizardry: The Discordant West
Wise Turtle
OVA: The Anime Role-Playing Game
Wizards of the Coast
Curse of Strahd
Sword Coast Adventure's Guide
Out of the Abyss
0one Games
The Sinking - Complete Serial
0one's Blueprints: Megadungeons - The Undercity
0one's Page Dungeons: Eyes of the Serpent-God
Submissions list last updated: 21 May 2016