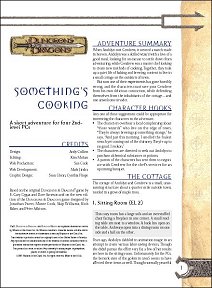 This is an amusing little piece, more of a side trip than a full adventure (although of course you could build upon it) that provides the party with a neat and original location to investigate.
The location is a small but cozy cottage that's home to a husband and wife who share two passions: magic and cooking. Unfortunately things have gone a bit awry at home and as they're out - or at least, don't appear to be taking care of things - it's up to the party to deal with the problems.
The actual cottage is well-described and comes to life, and everything that's going on there is coherent and logical within the context. Depending on what the party does, they may find themselves with some useful allies or perhaps an enemy or two, and there are various things the DM can pick up on to provide scope for future adventures.
There's also a new monster, a construct that needs a combination of culinary and magical skill to create... and which is either completely silly or quite logical depending on your point of view (or how you decide to play it!).
A thoroughly enjoyable romp to keep up your sleeve for a rainy evening when the group doesn't want to be completely serious about their role-playing, perhaps - yet sensible enough that it can slot in to any campaign as a bit of a light-hearted moment.
Return to Something's Cooking page.
Reviewed: 13 January 2016