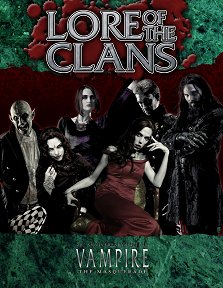 Lore of the Clans is a single volume revisiting all thirteen Clans for Vampire: The Masquerade 20th Anniversary Edition, providing story hooks, character concepts, history, and Clan-specific rules.
Publisher's blurb: "My sire always told me, 'There's no instruction manual for being dead, strákur.' I believed her, because she was older and smarter than me, and we value knowledge if nothing else. Many sires spill a lot of poison into the ears of their childer, telling them the One True Way to be a vampire. Some vampires donít even bother, kicking their errant progeny to the streets and letting them figure it out for themselves. A few smother their instruction in religious imperatives, philosophical tenets, or mystical confluences. But not one of them has a pamphlet with clear, easy instructions once youíve become Damned.
"Of course they lie. All vampires lie. But the best lies are those that are told between two truths, yes? Here are thirteen such truths, childe. They may line up with other things you know, or they might not. Sometimes the narrators present tantalizing rumors and conspiracies, while others digress into areas not often considered by many. Some of what they say have no facts to back them up, but not everything is a lie, either.
"Let us find instruction from amidst the lies, together."
Book Details:
Authors: Alan Alexander, Joshua Doetsch, Matt M McElroy, Andrew Peregrine, Ree Soesbee, Rob Wieland, Eddy Webb, and Christopher Wilde
Publishers' Reference: Unknown
ISBN: Unknown
Hardback, 307 pages
Date: December 2015
Buy this product:
DriveThruRPG (PDF download or print-on-demand book)
RPG Now (PDF download or print-on demand book)
Product page last updated: 27 June 2016