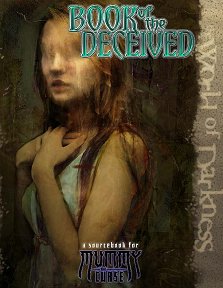 Discover an ancient long-lost Guild and continue adventuring through The Avarice Chronicle.
Publisher's blurb: "This book includes:
The inscrutable history, motives, and inner workings of the so-called Lost Guild of mummies. Enemies to most and a mystery to all, theirs is a multi-millennial legacy of treachery, madness, and revenge.
Complete rules and systems for running the Akhem-Urtu, lost Iremís guild of Restless Stars, including step-by-step player character creation - for those who dare step inside the minds of the Deceived.
The Trail of Heresy - a complete Mummy story that Storytellers can run alone or as the second act in a three-part series called The Avarice Chronicle."
More when I get hold of a copy!
Book Details:
Authors: Heather Curatola, Michael A. Goodwin, George Holochwost, Khaldoun Khelil, Malcolm Sheppard, and C.A. Suleiman
Publishers' Reference: Unknown
ISBN: Unknown
Hardback, 160 pages
Date: November 2014
Buy this product:
DriveThruRPG (PDF download or print-on-demand book)
RPG Now (PDF download or print-on-demand book)
Product page last updated: 9 January 2016