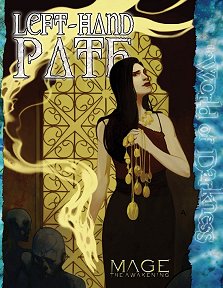 Dark secrets that ought not to be studied... but of course, they are.
Publisher's blurb: "All societies have rules - even societies of mages. But rules were made to be broken. For the Awakened, shattered laws raise sinister forces. The Left-Hand Path tempts sorcerers with forbidden power, fulfilling their desires at the risk of ostracism, madness or damnation. In exile, more of them thrive than the Pentacle admits, challenging the peril to their souls ... and uniting in common cause. Look Beneath the Surface.
"A Character Book for Mage the Awakening, containing:
The magical practices banned by Consilium and order
Details on Apostates and Heretics, mages on the fringe of Awakened society
Secrets of the Mad, dangerous and obsessed mages whose Wisdom failed
The hidden threat of the Tremere liches, their goal of summoning the Sixth Watchtower and their methods of Reaping souls
The history, society, philosophy, and powers of the Scelesti, mages who worship the Abyss"
More when I get hold of a copy!
Book Details:
Authors: Dave Brookshaw and Malcolm Shepherd
Publishers' Reference: Unknown
ISBN: n/a
Paperback, 100 pages
Date: November 2012
Buy this product:
DriveThruRPG (PDF download or print-on-demand book)
RPG Now (PDF download or print-on-demand book)
Product page last updated: 3 January 2016