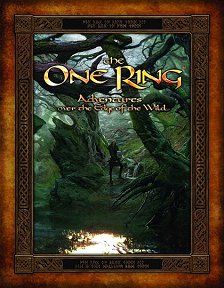 Bring Tolkien's fantasy to life - there's a revised single-volume version of the rules out now, but if you have this you can pick up a conversion document for free.
Publisher's blurb: "Smaug has been defeated, the Battle of Five Armies has been won, and Bilbo has returned to the Shire. In the relative peace, the Free People of Wilderland look beyond their borders for the first time, establishing trade routes, renewing bonds between their cultures, and bringing prosperity to the region of northern Mirkwood, the Lonely Mountain, and the eastern slopes of the Misty Mountains. But much danger still remains, and from the Orc-holds of the mountains to the dark and corrupt depths of Mirkwood a darkness waits, recovering its strength, laying its plans, and slowly extending its shadow.
"Based on The Lord of the Rings and set after the events of The Hobbit; future The One Ring core game releases will expand the game to the era of the War of the Ring. This set contains two core rulebooks in premium slipcovers: The Loremaster's Book for GMs and The Adventurer's Book for players."
Book Details:
Authors: Francesco Nepitello, Marco Maggi, Amado Angulo, and Dominic McDowall-Thomas
Publishers' Reference: CB71000
ISBN: 978-1-907204-14-2
2 books (336 pages total) + 2 maps in a slipcase
Date: August 2011
Buy this product:
Product page last updated: 2 March 2016