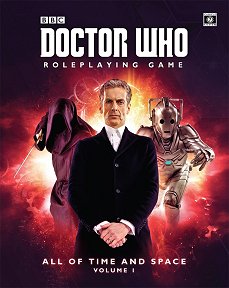 Searching for an adventure or two for the Doctor and his companions? Search no more, for here are four to get your teeth into! If your gaming group doesn't include a Doctor, not to worry - the adventures will work perfectly well with UNIT characters, or pretty much any party generated using the Doctor Who RPG ruleset. All start in the present-day, but take you off to exotic times and locations... so they'd better have some means of travelling time and space.
First up is 'Ghost Engines' which takes the party to Victorian London, a favourite haunt, via a disused railway tunnel. Behind it all is a complex plot involving visitors from the future, an escaped prisoner and a railway entrepreneur who is not quite what he appears to be... and several people who'd really love to go home to their own time and place. Everything is nicely arranged, with some helpful and cooperative folk in 1880s London ready and willing to aid the time travellers (who didn't, er, travel on purpose), and plenty of leads to follow to enable them to find out what's really going on, and why a Dimensional Shunt may be excellent for getting trains to run on time but doesn't belong in a Victorian railway network. Oh, and there's a ghost train as well. All the elements for a classic Doctor Who adventure, laid out to make it easy to run.
The next adventure is 'Northern Knights' and mixes Elizabethan England with one of the Doctor's old adversaries, the Cybermen, who have got embroiled in the ongoing religious dispute between Elizabeth and Catholicism. Fighting a mysterious plague and meeting Mary Queen of Scots feature in this game, and there's plenty opportunity to get involved in the intrigue that was rife at the time... never mind the Cybermen busy repairing a crashed ship and making their usual attempts to convert everyone they encounter into more Cybermen!
The third adventure, 'Schrödinger's Expedition', takes the party to a very strange place. It looks like a space station, maybe, but one of a very strange and illogical design... and with a massive space/time breach in the middle. A scientific expedition and its mirror, a military expedition from another dimension, and an assortment of wildlife that has colonised this place, whatever it might be, should keep the party entertained as they attempt to figure out just what it is that they have encountered... whilst slipping between dimensions themselves! Cleaning up the mess may seem impossible, but there's plenty of guidance on how to steer the characters in the right direction.
The final adventure is 'The Tomb of Cleopatra' which starts off with a present-day archaeological dig in Egypt that has discovered an artefact that looks disturbingly like it's an artistic rendering of a Cyberman's head! They'll need to travel into the past to find out what's going on and in a delightful twist will discover that things are not what they seem, although what is there still wants to trap the Doctor - something half the universe seems to want to do at one time or another. Perhaps a visit to Roman Egypt will enable the party to sort things out.
Each adventure is complex and steeped in the lore and the style of the show, yet there is sufficient support for the GM to enable them to run it even if they - or their players - don't know that much about it. Whilst there are lots of twists and turns in each plot they do hold together well and can be solved whether the party prefers guile and cumming or brute force. These ought to keep a group entertained for quite a few sessions, and definitely have the right 'feel' for a Doctor Who adventure.
Return to All of Time and Space Vol.1 page.
Reviewed: 26 December 2015