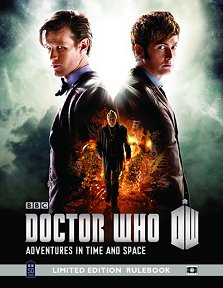 Teaching a computer games class the week of the 50th anniversary, they thought I was kidding them when I said I remembered the very first episode...
Publisher's blurb: "Imagine you could go anywhere. This world or countless others, encountering strange alien races, new cultures or hostile environments. Now imagine you could travel to any time. Meet Queen Elizabeth I (and maybe marry her!), discover the secrets under the Tower of London, watch the Moon landing (from the Moon!) or travel into the far future as humanity spreads to the stars. Where would you go?
"With the Doctor Who: Adventures in Time and Space roleplaying game, the power is in your hands! You can go anywhere or anywhen in the universe. It's not going to be easy. It'll probably be dangerous. The universe is a hostile place, full of Daleks, Zygons, Sontarans, Weeping Angels, Cybermen, Silence, Silurians and worse. There will be fear, heartbreak and excitement, but above all, it'll be the trip of a lifetime.
"Doctor Who: Adventures in Time and Space is a roleplaying game set in the universe of the world's longest running science fiction show on TV – the BBC's Doctor Who. This limited edition hardback rulebook celebrates the 50th anniversary of Doctor Who, presenting all the rules and background you need to have your own adventures in time and space in a single volume."
More when I get hold of a copy!
Book Details:
Authors: David F Chapman, Will Brooks, Steve Darlington, Robin Farndon, Nick Huggins, Derek Johnston, Mark Lawford, Dom McDowall, Charles Meigh, Darren Pearce, Andrew Peregrine, Jacqueline Rayner, Gareth-Michael Skarka, Alasdair Stuart, and Nathaniel Torson
Publishers' Reference: CB71122
ISBN: 978-0857442130
Hardback, 256 pages
Date: February 2014
Buy this product:
Product page last updated: 28 November 2015